Bahrain hunger striker Khawaja 'in good health'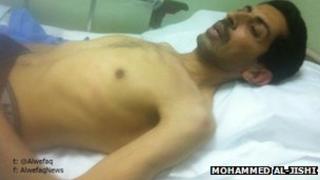 Bahrain's attorney general has denied rumours that a leading human rights activist who is on hunger strike in prison has died or is close to death.
Abdul Rahman al-Sayed said two leading foreign doctors had visited Abdulhadi al-Khawaja inside a military hospital and determined he was in "good health".
He had been taking fluids orally or through an IV drip, Mr Sayed added.
Mr Khawaja has refused food since 8 February in protest at the life sentence he received in June.
He was convicted by a military court of plotting against the state, but Amnesty International said last month that his trial was "grossly unfair".
His conviction was based on a confession he made under duress, and no evidence was presented showing he had used or advocated violence during the mass protests against King Hamad bin Issa al-Khalifa, it said.
'Very critical'
On Monday, Mr Khawaja's lawyer expressed fears that he could be dead, after repeated requests to contact him were turned down.
"We fear that he might have passed away as there is no excuse for them to prevent us from visiting or contacting him," Mohammed al-Jishi told the AFP news agency.
But on Tuesday, the attorney general issued a statement insisting the 52-year-old activist was in "good health" and calling on the media to exercise caution.
Mr Sayed said two foreign doctors - one of them an expert on hunger strikes, the other the director of a medical centre in Denmark - had visited the activist at the Bahrain Defence Force Hospital in Manama.
"The experts released a preliminary report on Khawaja's results which stated that he suffered weight loss from a hunger strike," he was quoted by the official Bahrain News Agency as saying .
"Despite prior medical reports that showed low blood sugar, potassium, and low white blood cells, which would have endangered his life if he had not received proper medical care, his current condition is well.
"He was co-operative, quite coherent, well-oriented in time, place and person, as he is receiving good medical care at the BDF hospital."
The doctors said he had "not been continuously on total fast and had taken fluids orally and intravenously", according to the statement.
However, the doctors' report does note that Mr Khawaja's health condition "has been severely deteriorated since his detention last year".
"If he continues to hunger strike and does not allow any medical interference his life will be in serious danger," they warn.
Denmark's Prime Minister, Helle Thorning-Schmidt, later called on Bahrain to release Mr Khawaja, who has Danish citizenship.
Mrs Thorning-Schmidt told journalists in Copenhagen that despite the claims of the attorney general, Mr Khawaja's condition was "very critical".
On Monday, UN Secretary General Ban Ki-moon called on the government to reconsider on humanitarian grounds a request from Denmark to extradite Mr Khawaja.
Bahrain's Supreme Judicial Council ruled on Sunday that the law prevented the transfer of "accused and convicted persons to foreign countries".
However, UN spokesman Martin Nesirky told reporters in New York that "in cases where there is a hunger strike, the health and well-being of the person should be the foremost concern".
Mr Nesirky added: "The secretary general has consistently urged authorities throughout the region, including Bahrain, to respect the rights of their people to peaceful protest. The secretary general expects due process to be respected in any appeal of the conviction."
Bahrain's highest court, the Court of Cassation, is due to rule on Mr Khawaja's appeal against his conviction on 23 April - a day after the Gulf state is scheduled to host a Formula 1 Grand Prix.
Last year's Bahrain GP was postponed in the wake of the violent crackdown on anti-government protests. It was eventually cancelled completely after more than 40 people were killed in the unrest.