Fears grow for peace deal in Syria after new demands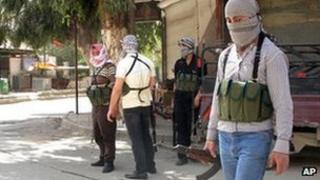 Doubts are growing about the planned ceasefire in Syria after the government made new demands and the rebels said they believed the plan would fail.
As fighting raged, Damascus demanded written guarantees from the rebels to end attacks and a promise from foreign governments not to fund or arm them.
The rebels said they had already given their word to stop fighting if government forces did so too.
Their commander said he believed the UN-brokered truce would fail.
The ceasefire, negotiated by UN envoy Kofi Annan as part of a peace plan, is due to begin this coming week after government troops pull back from populated areas.
An opposition body, the Syrian National Council, said it believed the government's new demands were a ploy by President Bashar al-Assad to reject the peace plan.
More than 9,000 people have been killed in the uprising against Mr Assad's rule which began more than a year ago.
As many as 160 people were killed on Saturday, many of them said to be civilian victims of shelling by government forces, and fierce new fighting was reported on Sunday.
'Plan to fail'
Damascus issued its two new demands just 48 hours before the deadline for the Syrian army to withdraw from towns and cities.
In doing so, it has thrown the entire ceasefire deal into doubt, the BBC's Grant Ferrett reports.
The Syrian foreign ministry said it did not want the rebels to exploit any troop withdrawal to reorganise and rearm themselves.
Foreign ministry spokesman Jihad Makdissi said: "Syria has a plan for military pullback already in place and being implemented, but completing and achieving the main goal would definitely require the guarantees from the other side and those supporting them."
A spokesman for the rebel Free Syrian Army (FSA) told Reuters news agency that the FSA would cease fire in line with the UN plan.
"But if they [Syrian government forces] fire we will pick up arms again and fight them," Col Qassem Saad al-Deen added.
Also speaking to Reuters, FSA commander Col Riad al-Asaad said his forces had not been asked to given any written guarantees.
"We have given our word that if the regime commits to the plan then we will too," he said. "We are honest."
He added: "The regime will not implement this plan. This plan will fail."
Mr Annan said in a statement on Sunday that "the present escalation of violence" was unacceptable.
'Mortar rain'
Details were impossible to verify independently but heavy fighting was reported on Sunday across Syria.
Dozens of people were killed or wounded when government tanks shelled areas in the province of Idlib, near the border with Turkey, activist Mahmoud Ali told Reuters by telephone.
He said the areas of al-Rouge and al-Bashiriya, where FSA fighters were surrounded, were under attack.
In the central city of Homs, government forces dropped mortar rounds on the rebel-held neighbourhood of Khaldiyeh, activist Tarek Badrakhan told the Associated Press news agency by skype.
"Mortar rounds are falling like rain," he said, as explosions were heard in the background.
Forty bodies were piled in a room in a makeshift hospital, he said, and activists were trying to keep the bodies cold by directing a fan toward them.
"We might have to bury them in public gardens," he said.