Yemen's Sanaa airport closed by pro-Saleh protest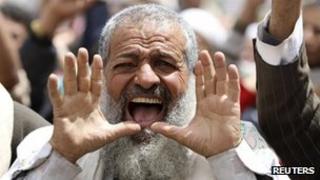 Yemen's main airport has been closed by air force troops protesting against the sacking of their commander.
Several flights to Sanaa have been cancelled or diverted.
The country's new president, Abdrabuh Mansur Hadi, is trying to sack several senior commanders who are related to his predecessor, Ali Abdullah Saleh.
General Mohamed Saleh al-Ahmar, the half-brother of the former president, is refusing to stand down as head of the air force.
He is reported to have threatened to shoot down any planes using the airport unless he is reinstated.
Commander sacked
Ali Adullah Saleh, who ruled Yemen for 33 years, packed the senior ranks of the armed forces with his supporters and relatives.
His nephew, the commander of the presidential guard, was sacked along with the airport chief on Friday.
Correspondents say the shake-up is a blow to Mr Saleh, who finally agreed to implement a power transfer deal last last year, after trying to face down mass protests and clashes with tribal groups.
As part of the agreement, Mr Hadi was elected president in a one-candidate poll in February.
Hundreds of thousands of Yemenis took part in demonstrations on Friday to demand reform of the military.