Yemen president 'fires army chiefs close to Saleh'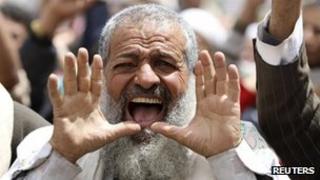 Yemen's president has sacked several senior army officers loyal to his predeccessor, Ali Abdullah Saleh, official media report.
Among those replaced are Mr Saleh's brother, who headed the air force, and his nephew, head of the presidential guard, Saba news agency says.
President Abdrabuh Mansur Hadi is tasked with restructuring the army as part of the transition deal under which he came him to power.
Mr Saleh had ruled Yemen for 33 years.
Correspondents say the shake-up is a blow to Mr Saleh, who finally agreed to implement a power transfer deal last last year, after trying to face down mass protests and clashes with tribal groups.
As part of the agreement, Mr Hadi was elected president in a one-candidate poll in February.
Hundreds of thousands of Yemenis took part in demonstrations on Friday to demand reform of the military.
Air force chief Gen Mohamed Saleh al-Ahmar, Saleh's half brother, and head of the presidential guard Gen Tarek Mohamed Abdallah Saleh, his nephew, were both fired, according to a presidential decree cited by Saba.
Earlier on Friday, a suicide bomber blew up a motorbike near intelligence offices in eastern Yemen, but no injuries were reported, according to the Associated Press news agency.
Another suicide attack was aborted in the south, the agency quotes the defence ministry as saying.