Crew of Chinese cargo ship hijacked off Iran 'rescued'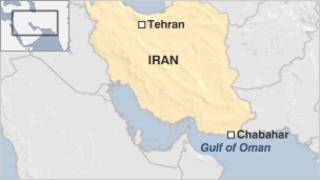 The 28-strong crew of a Chinese cargo ship seized by pirates in the Gulf of Oman off Iran's coast have been rescued, China's state media say, citing the nation's embassy in Tehran.
The vessel was attacked by Somali pirates on Friday morning near the Iranian port of Chabahar, Xinhua said.
China immediately asked Iran to take the necessary steps to rescue the crew, Xinhua said.
However, it gave no further details of the rescue operation.
In recent years, Somali pirates have extended the reach of their operations right across the Indian Ocean
The vessel, the Xianghuamen, belongs to the Nanjing Ocean Shipping Co Ltd based in Nanjing, eastern China.
Chinese vessels have been attacked several times by pirates as they traverse international waters around the Arabian Sea.
China also plays a role in the international naval operation to fight piracy off the coast of Somalia.