Egypt Muslim Brotherhood U-turn sets election agenda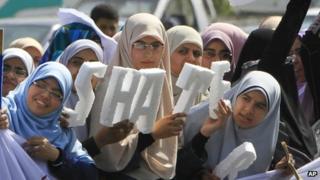 As Egypt prepares for what should be its first ever free and fair presidential elections next month, a late entry to the race, the Muslim Brotherhood's Khairat al-Shater, looks like he might steal the show entirely.
The millionaire businessman, and the influential Islamist movement's chief financier, was named the Brotherhood's official candidate a week ago. The group had for months promised not to put forward its own candidate.
On Egypt's popular night-time talk shows, the U-turn by the Muslim Brotherhood is the subject of heated debate.
Liberals argue that the Brotherhood's decision to field a presidential candidate after promising not to proves that the movement seeks political dominance.
Even some Islamists believe its credibility has been damaged and that the group should have been satisfied with its success in parliament where its Freedom and Justice Party (FJP) controls nearly half the seats.
The Muslim Brotherhood is on the defensive. I asked a senior member, Amr Darrag, why it reversed its position on the presidency.
"We realised we would always lack the executive power to empower our agenda for reform," he says. "We're under a lot of pressure from people who voted for us in the elections that they cannot see anything on the ground."
"Khairat is a very powerful and organised person, he has proven to be a leader in business and in politics and he also has a vision," he adds.
"Most of all he has the support of the organisation - of the Muslim Brotherhood and the Freedom and Justice Party."
The group will use its extensive grassroots network of members to get the vote out for Mr Shater and has been trying to convince other parties such as the conservative Salafists of the al-Nur party to give him their backing too.
Unofficial campaigning
Campaigning for the presidential election is not officially allowed until after the final list of candidates is published.
However, all around Cairo, campaign posters for the presidential hopefuls have already started to appear at roadsides and on tall buildings.
There are very few for Khairat al-Shater as yet but there are plenty in support of two of his main Islamist rivals.
The popular Salafist choice is Hazem Abu Ismail. Pictures show him constantly beaming, although he is currently fighting reports that he does not qualify to run as president under new strict election rules; his dead mother is said to have held a foreign passport.
A reformist Islamist, Abdul Moneim Aboul Fotouh, has wide appeal among the young in particular. He was also a long-time leader of the Brotherhood but was expelled after declaring his intention to join the presidential race early last year.
Some billboards in central Cairo show the former Arab League head, Amr Moussa, the leading secular candidate.
There are just a few weeks for the presidential candidates to make their mark before voting starts on 23 May. Experts believe that charisma and religion rather than policies will determine how most Egyptians make their choices.
"The personality factor plays a very important part in this election," says Mustafa Kamel al-Sayyid, a Cairo University politics professor.
"I guess the Islamist candidates will try to turn it into a fight between the believers and non-believers. Identity issues are a winning card in the hands of the Islamists and in this kind of highly competitive election, I doubt very much that they wouldn't use this winning card."
Fine cut
To take a measure of public opinion, I headed to a barber's shop in Giza where the FJP won most parliamentary seats late last year.
For the first time in their lives, the all-male clientele are looking forward to a presidential vote where they will have genuine choices.
But they are not agreed on who should lead the country.
"We don't need an Islamist or someone from the old regime. I'll vote for a liberal candidate as I prefer new blood," says one client, who voted for the FJP in the parliamentary elections.
"I prefer to support a wise man who will know about religion and politics at the same time," a young man chimes in. "Maybe Khairat al-Shater."
The shop owner, Ashraf, is still sitting on the fence.
"There's not much time to choose and I'm still undecided. We pray that God will guide us to the right candidate," he says.