Egypt Brotherhood candidate registers for presidency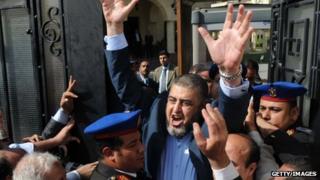 The Muslim Brotherhood's candidate for the Egyptian presidency has registered for the election set for late May.
Khairat al-Shater, who announced he was running for the presidency less than a week ago, presented his papers to the electoral commission on Thursday.
The party had previously said it would not field a candidate in the vote.
Meanwhile, doubts were cast over the eligibility of Salafist contender Hazem Abu Ismail, after electoral officials said his mother was a US citizen.
The ruling is likely to bar Mr Abu Ismail from the race, since a law made last year stipulates that a candidate, or his parents, may not have citizenship of any country other than Egypt.
The polls will determine who will succeed former President Hosni Mubarak, who was deposed after a popular uprising last year.
The Supreme Council of the Armed Forces that currently runs Egypt is due to hand over power in June.
Flags and posters
Mr Shater, a successful businessman, is a senior Brotherhood member and its chief financier. He was jailed several times during the rule of Hosni Mubarak.
Reporting from Cairo, the BBC's Yolande Knell says more than 1,000 supporters of Mr Shater lined the busy main road outside the offices of the Presidential Elections Commission hoping to catch a glimpse of him as he handed in his papers.
Some had travelled on buses from far-off governorates. They waved Egyptian flags and carried posters showing their new candidate. "The people want Shater as president," they chanted and: "Oh God make Shater win."
Supporters seem to have been reading Mr Shater's CV, our correspondent said. They readily listed his qualifications from his educational diplomas to his success as a businessman, IT expert and political thinker.
"I think Egypt needs a project for the economy. It's the most important thing right now and he has most experience," a young woman, Fatima Mohammad Ali, said. "I can already see him on the president's chair."
The ruling on Hazem Abu Ismail, meanwhile, could eliminate one of Mr Shater's main contenders.
The electoral commission said that Mr Abu Ismail's mother had held a US passport and used it for travel to the US and Germany.
It said files would be looked at on 12 and 13 April and any candidate not qualified to take part in the poll would be notified, and given 48 hours to appeal.
Mr Abu Ismail, who has widespread backing from ultra-conservative Muslims known as Salafis, supports a strict version of Islam, similar to that in Saudi Arabia.
Hundreds registered
Correspondents say relations between the Brotherhood and the military council have steadily worsened.
The Muslim Brotherhood's Freedom and Justice Party won more than a third of the votes and nearly half the seats in legislative elections in November.
Mahmoud Hussein, the group's deputy leader, said it had decided to field a candidate following what it sees as "attempts to abort the revolution".
Brotherhood leaders have complained that the military council has refused to appoint a new government led by the Freedom and Justice Party.
The deadline for registering for the election closes on Sunday.
About 1,000 people are reported to have registered in total, including Amr Moussa, a former foreign minister and head of the Arab League.