Iraq political reconciliation talks in doubt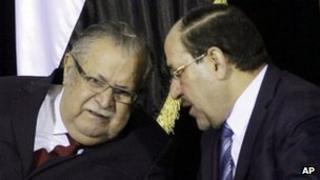 There is confusion in Iraq over much-heralded political reconciliation talks, which were scheduled to be held in the capital, Baghdad, on Thursday.
The meeting was intended to address long-standing differences between the country's political leaders over power-sharing, oil policy and other issues.
But some are now not attending, casting doubt on whether it will take place.
Mr Maliki's opponents say he ignores his partners in government, and concentrates power in his own hands.
The prime minister controls the vacant defence and interior ministries, making himself almost entirely in charge of Iraq's security forces.
Oil law
With rock-solid certainty, Prime Minister Nouri Maliki announced the long-awaited National Conference for Iraqi Political Blocs would be held on Thursday.
But on Wednesday, his opponents said they would not attend, and his allies said there was no point.
The problems that were supposed to be addressed ranged from power-sharing in Baghdad, to differences over the structure of the federal system in Iraq.
Mr Maliki's opponents in the predominantly Sunni parliamentary bloc, al-Iraqiya, accuse him of ignoring his partners in government, and concentrating too much power in his own hands.
His differences with the Kurdish bloc run even deeper.
Just a few days ago, the semi-autonomous Kurdish region in the north announced it would stop exporting oil, because the federal government in Baghdad was not paying international oil companies for their work.
For all its oil wealth, Iraq still does not have an oil and gas law because of these differences.
Despite the urgency of resolving them, Iraq's leaders seem to be struggling just to get together to talk about them.