Fuel arrives in Gaza to ease power crisis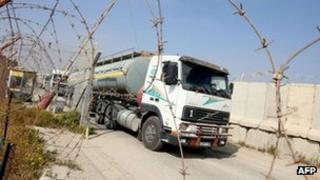 Fuel has started arriving in the Gaza Strip as a result of a deal between the territory's Hamas-led government and the rival Palestinian Authority.
Raid Futuh, co-ordinator of the Palestinian side of the Kerem Shalom crossing, said tankers of Israeli diesel had begun arriving on Wednesday.
He said 430,000 litres of fuel for Gaza's sole power plant were expected.
Gaza has been affected by severe power cuts for months, and the plant closed 10 days ago because of a lack of fuel.
Hamas decided more than a year ago to use fuel smuggled from Egypt to run the power station, rather than pay for diesel from Israel, which is more expensive and subject to restrictions.
'Temporary deal'
But in February, Egypt began to crack down on fuel-smuggling because it was suffering shortages itself and wanted imports to Gaza to pass through the Israeli-controlled crossing at Kerem Shalom.
Hamas has also blamed Israel's continuing blockade of the territory, from which it withdrew in 2005 but nearly all whose land crossings it still controls. But Israeli officials have accused the Islamist group of manufacturing the crisis and of rejecting offers of supplies from Israel.
On Monday, the International Committee of the Red Cross (ICRC) was forced to ship 150,000 litres of fuel to 13 hospitals in Gaza to ensure operating theatres and specialist units were not disrupted.
The next day, Hamas and the Palestinian Authority, which governs the West Bank, agreed to an Egyptian-brokered deal to end the fuel crisis.
Under the agreement, an Israeli company will supply industrial diesel for Gaza's power plant and a temporary mechanism will enable Hamas to pay the bill without dealing directly with Israel.
"The Hamas authorities in Gaza will pay the money... to the PA and the PA will take care of the payment to the Israeli side," one Palestinian official told the Reuters news agency on Tuesday.
A first payment of 2m Israeli shekels ($539,000) has reportedly already been transferred to the PA, which allowed daily deliveries of about 500,000 litres to begin on Wednesday. The cost should be covered by the Gaza Electricity Distribution Corporation's (Gedco) revenues.
The Palestinian Authority said the deal was temporary, and would last until a long-term supply arrangement is reached with Egypt.
In a separate development, the Israeli military confirmed it had shot dead overnight a Palestinian man who soldiers had observed "crawling towards the security fence in the northern Gaza Strip".
Palestinian medics earlier said a man's body had been found to the east of Gaza City's cemetery at dawn on Wednesday.