Libya clashes: 'At least 14 dead' around Zuwara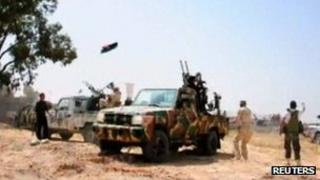 Clashes between ethnic Berbers and their Arab neighbours have killed at least 14 people and injured many more in Libya, officials say.
Fighting has continued for a third day around the predominantly Berber town of Zuwara in western Libya.
The National Transitional Council (NTC) has said it is sending forces to intervene and enforce a ceasefire.
It has been struggling to assert its authority over tribal groups following the ousting of Col Gaddafi last year.
There are reports of militiamen from inside Zuwara exchanging mortars and heavy fire with fighters in the nearby Arab areas of al-Jumail and Reghladin.
Interior Minister Fawzi Abdel A'al told reporters he was "asking the two sides to restrain themselves... because there will be no winner in this battle", Reuters news agency reports.
The fighting in Zuwara follows clashes between rival militias in the southern city of Sabha last week which left around 150 people dead.
The BBC's Jon Donnison, in Tripoli, says Libya's government lacks any real central authority, or even an army to dispatch.
Much of Libya is being policed by heavily-armed militias with long standing tribal and regional rivalries, making it difficult for the NTC to assert control over all of the country ahead of elections in two month's time.