Red Cross delivers fuel to Gaza hospitals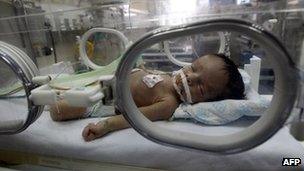 The International Committee of the Red Cross (ICRC) says it has begun distributing emergency fuel supplies to hospitals in the Gaza Strip.
The 150,000 litres (33,000 gallons) of diesel would help 13 public hospitals maintain essential health services for the next 10 days, the ICRC said.
Immediate action had to be taken to prevent further deterioration of the fuel and electricity crisis, it added.
Gaza's only power plant closed eight days ago because of a lack of fuel.
Hamas, which governs the coastal territory, decided more than a year ago to fire the plant with fuel smuggled from Egypt, rather than pay for fuel from Israel, which is more expensive and subject to restrictions.
'Specialist units hardest hit'
But in February, Egypt began to crack down on the smuggling of fuel, because it was suffering shortages itself and wanted imports to Gaza to pass through the Israeli-controlled Kerem Shalom crossing.
Hamas has also blamed Israel's continuing blockade of the territory, from which it withdrew in 2005 but nearly all whose land crossings it still controls. But Israeli officials have accused the Islamist group of manufacturing the crisis and of rejecting offers of supplies from Israel.
The head of the ICRC delegation for Israel and the Occupied Territories, Juan-Pedro Schaerer, said on Friday when announcing the shipment: "The current failure to ensure delivery of fuel and electricity could rapidly lead to interruptions in vital public services such as hospital care and water supply, putting the lives of thousands of patients in danger."
"We have already warned that in the event of any such disruption, hospital operating theatres and specialist units, such as those providing intensive care, neonatal care and haemodialysis, would be especially hard hit," he added.
The prime minister of the Hamas government in Gaza, Ismail Haniya, said on Monday that his foreign minister was in Cairo for "intensive consultations" with Egypt and the Palestinian Authority on the issue.
The ICRC gave another 150,000 litres of fuel to the hospitals in February.