Syria 'agrees' to peace plan deadline, Annan tells UN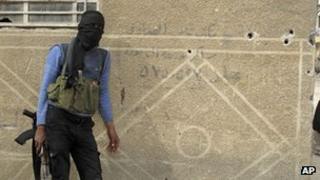 Syria has agreed to a 10 April deadline to begin implementing a six-point peace plan, UN-Arab League envoy Kofi Annan has said, according to diplomats.
The plan calls for a UN-supervised ceasefire by all parties, withdrawal of soldiers and heavy weapons from cities, and delivery of humanitarian aid.
Mr Annan was briefing the UN Security Council in closed session.
Violence in Syria continued on Monday, with activists reporting fighting in Idlib and Homs.
Red Cross visit
Mr Annan has asked the Security Council for its backing of next Tuesday's deadline for Syria to partially implement his peace plan, with a full ceasefire within 48 hours.
Syria said last week it accepted the peace plan. However, Mr Annan cautioned the Security Council that so far there was no sign of President Bashar al-Assad's government keeping its promises on implementation, diplomats said.
Speaking after the briefing from Mr Annan, US ambassador to the UN Susan Rice said: "We have seen... promises made and promises broken."
Past experience "would lead us to be sceptical" that Syria would implement the Annan plan, Ms Rice said, warning that it was possible violence might escalate instead.
Syria's ambassador to the UN, Bashar Ja'fari, confirmed Damascus accepted the 10 April deadline but told reporters Mr Annan must get similar commitments from the opposition.
Ms Rice said Mr Annan's deputy, Nasser al-Kidwa, had had "constructive exchanges" with the opposition to urge them to cease their operations within 48 hours of a complete cessation of government hostilities.
The BBC's Barbara Plett, in New York, says Mr Annan told the closed session that Syria had said it was not ready to pull troops and heavy weapons out of the cities unless the armed opposition laid down their weapons too.
The deadline will make clear whether, as some of his critics have said, Mr Assad is simply stalling for time, our correspondent adds.
Funding for rebels
On Sunday, a group of 83 countries backing political change in Syria warned President Assad he had little time to comply with Mr Annan's plan.
"The window of opportunity for the regime to implement its commitments to Joint Special Envoy Annan is not open-ended," the "Friends of Syria"said in a statement.
"The Friends' Group called upon the Joint Special Envoy to determine a timeline for next steps, including a return to the UN Security Council, if the killing continues," it added.
Gulf Arab countries attending the group's meeting in Istanbul agreed to pay the salaries and other costs of the rebel Free Syrian Army (FSA).
The money, which will be distributed through the opposition Syrian National Council, is the first formal international support for the FSA.
Meanwhile, the head of the International Committee of the Red Cross (ICRC), Jakob Kellenberger, is on his way to Damascus for talks about expanding aid operations and gaining access to all detainees.
During his two-day visit, Mr Kellenberger plans to visit areas affected during the fighting, the ICRC said in a statement.
Last month, after the fall of the rebel district of Baba Amr, in Homs, the Syrian government said it would allow an ICRC convoy into the area.
However, when the convoy reached Baba Amr on 2 March, it was denied permission to enter.
The Local Co-ordination Committees, a network of anti-government activists in Syria, said 65 people were killed on Monday. They included 40 dead in Homs, 14 in Idlib, six in Hama and five in Aleppo.
The figures cannot be verified independently, as journalists' movements are severely restricted in Syria.