Egypt candidate: Muslim Brotherhood's Khairat al-Shater
By Yolande Knell
BBC News, Cairo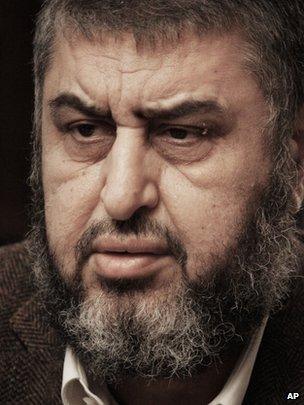 In just over a year, the fortunes of Khairat al-Shater have changed dramatically.
He has gone from being a political prisoner to a frontrunner in Egypt's presidential race as the Muslim Brotherhood's chosen candidate.
Even behind bars - where he served 12 years for his association with the previously banned Islamist group - Mr Shater was an influential figure. He was known as its key financier.
Since his release after the fall of President Hosni Mubarak, his importance has grown.
Serving as one of the group's three deputy leaders, he has played a key strategic role and is said to have been involved in negotiations with the ruling military council.
In recent months, the millionaire businessman has developed the Brotherhood's economic policy and met the International Monetary Fund (IMF) team that is negotiating a $3.2bn loan facility with the government.
He has also represented the Muslim Brotherhood at meetings with ambassadors, visiting foreign officials and international investors.
He articulates its moderate Islamist vision - its commitment to democracy, the rights of religious minorities and a free market.
However, he has also said that the recent election results - which led to a parliament dominated by Islamists - indicate that the Egyptian people support an Islamic state.
"There is a current within the Brotherhood that is closer to the [conservative] Salafists," says Mustafa al-Zahran, an expert on Islamist political movements. "Khairat al-Shatar is leading this."
Mr Zahran believes he will be a popular candidate within the wider organisation.
"The nomination of Khairat al-Shater is a smart choice because he has mass popularity among the grassroots membership and a long history of struggle," he adds.
In its official statement on Saturday, the Muslim Brotherhood said it had reversed its decision not to nominate a presidential candidate after reviewing the alternatives.
In a thinly-veiled reference to its ongoing power struggle with the ruling military, it also complained that parliament - where its Freedom and Justice Party (FJP) controls the biggest bloc - had been unable to meet "the demands of the revolution".
Yet there was evidently a heated debated among Brotherhood leaders about whether to back Mr Shater. The vote that finally decided his nomination is understood to have been very close.
A former deputy leader of the Brotherhood, Mohammad Habib, was quoted on the Masrawy news website describing the outcome as "a fatal mistake" that would "make the group lose its credibility and widen the gap between the Brotherhood and public opinion".
Many younger reformist members of the group have also voiced disappointment. They believe it is Mr Shater who has continued to enforce a hierarchical and insular culture in the group since last year's uprising.
He led efforts to prevent Brotherhood members from dissenting from support of the FJP and sought the expulsion of those who pursued more liberal Islamist politics such as the popular former leader, Abdul Moneim Abu al-Futuh.
"He may be a good person, a good Muslim or a good businessman, but I don't feel comfortable with the choice of Shater," says Islam Lutfi, who was thrown out of the Brotherhood last year after he set up the Egyptian Current party with other activists.
"He plays the role of second man but manages everything from the shadows. These are not the actions of a president."
For his part, Mr Shater, who is 62, has previously insisted that he does not seek personal power.
He was not present at Saturday's news conference, but the Brotherhood's General Guide, Mohammed Badi, read out a letter in which he resigned from his post in the organisation to run for presidential office.
"Although I never thought of occupying any executive position in the state or running for it, I can't help but comply with the decision of the group," he is said to have written.
Mr Shater is expected to hold a news conference in the coming days to give more details of his plans. It will also give him a chance to begin to raise his public profile.
While many Egyptians already know him as a successful businessman - with furniture and textile stores, a computer firm and chain of supermarkets - he can also stress his image as a family man - he has 10 children.
His supporters think that his reputation for seriousness and as a straight-talker will stand him in good stead.
In the past, Mr Shater has paid a high price for political activism.
Originally a leftist, he was first jailed as an engineering student at Alexandria University when he joined anti-government protests.
As he rose through the ranks of the Muslim Brotherhood in the 1980s and 90s he was targeted increasingly frequently.
In 2006, he was arrested along with other senior members, and jailed in 2007 by a military court on charges that included supplying students with weapons and military training.
While prison terms can bar access to elected office, his lawyers maintain that they will not derail his candidacy.
With that obstacle removed, the extensive network of Brotherhood supporters across Egypt can be expected to translate to huge support for him when the first round of presidential voting takes place in May.
Related Internet Links
The BBC is not responsible for the content of external sites.