Syrian opposition plagued by doubt and disunity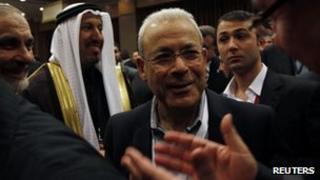 Diplomacy on Syria appears to be moving quickly. President Bashar al-Assad has signed up to the Kofi Annan peace plan, the only plan that has full international support, including Russia and China.
And most Syrian opposition groups have put aside their differences and agreed that the umbrella Syrian National Council will be their official representative, and their interlocutor in any talks on the country's future.
All this is welcome news to Turkey, as it prepares to host the second Friends of Syria meeting of sympathetic countries in Istanbul this weekend.
But hold on. The Syrian government offer has been greeted with understandable scepticism.
Broken promises
We have been here before. Last November President Assad agreed to a deal proposed by the Arab League which had many of the same elements as the Annan plan - withdrawal of government forces from residential areas, freeing of political prisoners and good-faith negotiations with the opposition.
None of those promises was kept.
The Annan plan contains no timetable for implementation, but for it to get any momentum, it must produce results on the ground in a matter of days.
The Syrian opposition groups who have been meeting in Istanbul this week are unanimous in their belief that President Assad is just playing for time.
So they are convinced they will never have to confront the dilemma over whether to sit down and negotiate with him.
At Russia's request the Annan plan makes no mention of any requirement for President Assad to leave office.
But almost all the opposition groups say that requirement is non-negotiable; all they would be willing to talk about is how he leaves office, and what kind of system follows his departure.
We are a very long way from that point. Turkey is playing down expectations of the Friends of Syria meeting.
The results of the first meeting, in Tunisia, were dismissed by a lot of activists as no more than empty promises.
And Turkish officials describe it as part of a gradual build-up of diplomatic pressure on President Assad to convince him and his allies that his regime cannot survive.
About 60 countries are expected to attend, but they do not include Russia and China, which have declined their invitations.
"The SNC will get a positive response to its requests for non-lethal aid," said one Turkish official, "but not to requests for arms".
"We are against arming the opposition on principle. We would lose the higher moral ground, and make the situation more complicated. We believe there is still room to put more pressure on Assad."
'Absence of unity'
The missing link, says the official, in winning more support for the SNC, has been the absence of unity among the various dissident groups.
Even the foundation of the SNC last August was hamstrung by so many disagreements the council had to be re-founded a month later.
It took a few more weeks to agree on who should lead it. And that leadership, headed by the French-based academic Burhan Ghalioun, has been under a constant barrage of criticism.
It has been attacked for being unaccountable, for failing to consult on big decisions, for being too much under the thumb of the Muslim Brotherhood, the SNC's biggest component, and most damagingly, for failing to support those activists and former soldiers fighting against desperate odds inside Syria.
It is very far from looking like a government-in-waiting, as its international supporters had hoped it would be.
That is why Turkey pushed the opposition groups to hold a grand unity conference this week, in advance of the Friends of Syria gathering.
But even the final declaration of consensus on a vision for Syria, and the SNC's primary role in it, was achieved only after some spectacular displays of disunity.
Haytham al-Maleh, an 81-year old former judge who has spent years in jail, walked out at the start of the meeting, complaining that he was not getting sufficient recognition of his status as a senior dissident.
The main Kurdish group walked out because they felt their demands for some form of autonomy were not being addressed.
Others quietly seethed about the ambitions of the Muslim Brotherhood, or the perceived failings of the SNC leaders.
Lacking faith in their own council, and in the prospects for a diplomatic solution, many of the activists are directing their efforts to raising funds for the Free Syrian Army.
There are wealthy business figures in the movement who believe they will achieve more buying guns and other equipment for the insurgents than they will by backing the SNC.
They are preparing for a long, bloody struggle to force President Assad from office.