Dutch court compensates Palestinian for Libya jail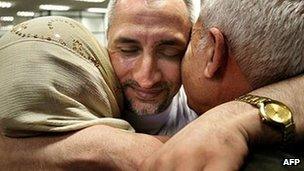 A Dutch court has awarded 1m euros ($1.3m; £838,000) in compensation to a Palestinian doctor who was imprisoned in Libya for eight years for allegedly infecting children with HIV/Aids.
Ashraf al-Hajuj, who now lives in the Netherlands, was pardoned along with five Bulgarian nurses in 2007.
Dr Hajuj sued 12 Libyan officials under the principle of universal jurisdiction provided for by Dutch law.
His lawyer said she would now urge the EU to press Libya to cover the damages.
In 2000, Dr Hajuj and the five Bulgarian nurses went on trial in Libya accused of deliberately infecting more than 400 children with HIV.
They always maintained they were innocent, and medical experts said the outbreak was probably caused by poor sanitation.
But they were convicted and sentenced to death four years later.
In 2005, Bulgaria and Libya agreed to set up a fund for the families of the infected children and their convictions were overturned.
The following year they were again sentenced to death, though their convictions were eventually commuted to life in prison after the children's relatives accepted compensation worth $1m per child.
After their pardon and release in 2007 by the government of Col Muammar Gaddafi, they said they had suffered horrific torture.
Dr Hajuj turned to a court in The Hague to seek financial compensation for the trauma.
He sued 12 Libyan civil servants for involvement in his torture and inhumane treatment under the principle of universal jurisdiction - meaning that courts can decide to bring a prosecution regardless of where the offence was committed, because of the seriousness of the crime.
Dr Hajuj's lawyer, Liesbeth Zegveld, said the case marked the first time the principle had been used in a civil human rights case, and that she would now urge the EU to press the Libyan state to cover the damages.
But the BBC's Anna Holligan in The Hague says it is unlikely that the Libyans or their government are either willing or able to pay.