Egypt constitutional assembly begins work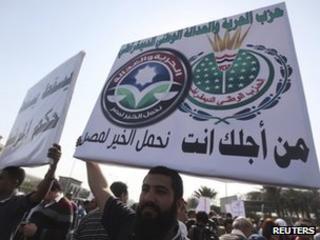 An assembly of 100 Egyptians given the task of writing their country's new constitution has begun its work.
Nearly 20 secular and liberal members of the panel have withdrawn, saying it does not reflect the diversity of Egyptian society.
They believe women, young people and Christians are under-represented.
Islamists from the Muslim Brotherhood's Freedom and Justice Party and the Salafist Nour party, which dominate parliament, hold a majority of seats.
The existing constitution already acknowledges the principles of Islamic law, but some of them would like Egypt to follow Sharia more strictly.
The new document will also determine minority rights and the balance of power between the president - previously the supreme authority - and parliament.
Once the panel has produced its draft, it will be put to a referendum, which must take place before the presidential election can begin in May.
Heading for confrontation
Some liberal and secularists on the panel have promised to draft an alternative.
"We shall undertake this duty from outside the official assembly in collaboration with all the segments of society and experts that should have been included from the beginning," they said on Tuesday.
Others want an intervention by the generals who assumed power after Hosni Mubarak was forced to step down last year.
"It is up to the Supreme Council of the Armed Forces [Scaf] to get involved," Sameh Ashour, head of the lawyers' syndicate, told the Associated Press.
"We cannot leave representation of Egypt to a majority in parliament."
Field Marshal Mohammed Hussein Tantawi, the head of the Scaf, met representatives of political parties on Tuesday to discuss the stand-off.
"The constitution must be in the hands of all Egyptians, because it will for a long time chart the road Egypt takes internally and externally," he said.
The Muslim Brotherhood disputes that Islamists, who control 70% of the seats in parliament, dominate the constitutional assembly. It says only 48 members are Islamists - 36 from parliament and 12 others.
"Thirty million people elected those MPs. How come they shouldn't be part of the assembly?" asked Abdul Khaleq al-Sharif, a member of the Brotherhood's advisory council, according to the Reuters news agency.
Two members of the panel also walked out of Wednesday's first session in protest when a chairman was elected despite the absence of so many people.
Wahid Abdul Magid, a liberal member of the FJP, said he had left the room because the move "sends a negative message... and complicates the crisis".
At the same time there is a growing dispute between the ruling military council and the Muslim Brotherhood over the planned handover of power to civilian rule at the end of June, says the BBC's Jon Leyne in Cairo.
The argument could well develop into a major confrontation, he adds.