Opposition unite behind Syrian National Council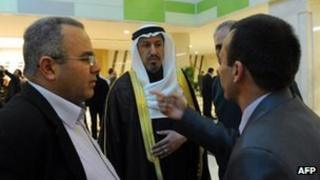 All but one of Syria's disparate opposition groups have agreed to unite behind the Syrian National Council.
A statement issued after a two-day meeting in Istanbul said the SNC would be the "formal interlocutor and formal representative of the Syrian people".
They also expressed scepticism at the government's acceptance of the peace plan presented by UN envoy Kofi Annan.
Meanwhile, UN human rights chief Navi Pillay has told the BBC that President Bashar al-Assad will face justice.
She said the Syrian leader could end the detentions of protesters and stop the killing of civilians immediately, simply by issuing an order.
On Tuesday, another senior UN official said it estimated that more than 9,000 people had now been killed since the uprising began last March.
'Restructuring'
The Syrian National Council was formed in October in an effort to offer a credible alternative to President Assad's government and serve as a single point of contact for the international community.
But its exiled leadership has been criticised as ineffective by activists operating inside Syria, while several other groups had until Tuesday refused to accept its primacy at negotiations with foreign powers.
After two days of exhaustive talks in Istanbul aimed at agreeing common objectives, delegates announced they had "decided that the SNC is the formal interlocutor and formal representative of the Syrian people".
The meeting also "agreed upon a statement... pledging for a restructuring of the SNC and decided to form a preparatory commission to write down a new law for the SNC", said the statement signed by all factions but the National Co-ordination Committee, which did not attend.
SNC spokeswoman Basma Kodmani told the BBC: "We needed to build the confidence of countries around the world who want to support the Syrian revolution that this is the organisation that can channel support to the population inside.
"I think this now has been achieved."
But the BBC's Jonathan Head in Istanbul says there were still many disputes at the conference, with one senior dissident walking out at the start because he felt he was not seated properly.
Also, Kurdish delegates left at the end because they were not given the promises of autonomy they were seeking.
Turkey and Qatar, which holds the rotating chair of the Arab League, had invited the opposition to gather in Istanbul to agree on a set of shared principles for a peaceful transition ahead of the second "Friends of Syria" meeting in the city on Sunday.
If sympathetic countries were hoping for the creation of something like a government-in-waiting, they must be disappointed, our correspondent says.
But one thing all the delegates did agree on was that President Assad's apparent acceptance of Kofi Annan's six-point peace plan was not to be trusted, he adds.
The plan envisages a UN-supervised ceasefire and eventual talks on Syria's future, but does not call for the president to step down - a demand every opposition delegate in Istanbul insisted was non-negotiable.
But our correspondent says few of them expect it to work, and they still believe the only solution is to arm the insurgents of the Free Syrian Army (FSA), and to keep fighting, until President Assad is defeated.
The United States also reacted sceptically to Syria's acceptance of Mr Annan's peace plan, with Secretary of State Hillary Clinton saying President Assad had a "history of over-promising and under-delivering".
"We will judge Assad's sincerity and seriousness by what he does, not by what he says," she said, calling on him to order his forces to stop firing and leave populated areas.