Syria crisis: Clashes spill over Lebanese border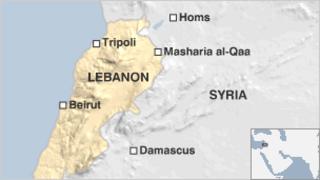 Clashes between Syrian security forces and armed rebels have spilled across the border with Lebanon, witnesses and Lebanese security officials say.
Residents of Masharia al-Qaa said soldiers backed by armoured vehicles had entered Lebanon and fired at houses where rebels had taken cover.
Lebanese officials said bullets had struck Lebanese territory, but that no Syrian troops had crossed the border.
Thousands of Syrian refugees have fled to Lebanon in the past year.
More than 1,500 crossed the border after troops entered the Baba Amr district of Homs earlier this month after four weeks of bombardment.
The border area is also used by smugglers and the Free Syrian Army (FSA), which wants to oust President Bashar al-Assad by force.
On Tuesday, residents of the mountainous area of Masharia al-Qaa said Syrian soldiers had followed FSA fighters over the border with Lebanon and fired rocket-propelled grenades and machine-guns at them.
"More than 35 Syrian soldiers came across the border and started to destroy houses," one local, Abu Ahmed, told the Reuters news agency.
However, two Lebanese military and police officials told the Associated Press that no Syrian troops had crossed into Lebanon.
Syrian forces have reportedly fired shells into Lebanon and briefly crossed the border while pursuing rebels several times in recent months.