Jailed Palestinian leader Barghouti urges resistance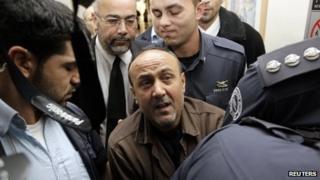 A jailed leader of the Palestinian Fatah movement, Marwan Barghouti, has called for a new wave of civil resistance against Israel.
In a message sent from Hadrim prison in Israel, Barghouti said the "launch of large-scale popular resistance at this stage serves the cause of our people".
He also called on the Palestinian Authority to halt immediately all co-ordination with Israel.
Barghouti was convicted on five counts of murder by an Israeli court in 2004.
But the trial turned him into household name and he enjoys widespread support among all Palestinian factions.
If Barghouti were ever released, many believe he would be a favourite to succeed to Mahmoud Abbas as Palestinian Authority president.
'Marketing an illusion'
Barghouti, the former leader of Fatah in the West Bank and chief of its armed wing, the Tanzim, issued his call ahead of the 10th anniversary of his detention by Israel.
Thousands of Palestinians are expected to protest against the Israeli government's land policies later in the week in an occasion known as Land Day.
"The launch of large-scale popular resistance at this stage serves the cause of our people," Barghouti said.
"Stop marketing the illusion that there is a possibility of ending the occupation and achieving a state through negotiations after this vision has failed miserably."
"It must be understood that there is no partner for peace in Israel when the settlements have doubled," he said.
"It is the Palestinian people's right to oppose the occupation in all means, and the resistance must be focused on the 1967 territories."
Barghouti also said the Palestinian Authority had to halt immediately "all co-ordination with Israel - economic and security - and work toward Palestinian reconciliation", rather than a peace agreement.
He called instead for "a renewal of efforts" to achieve recognition of Palestinian statehood, which was blocked at the UN Security Council by the US last year.
"The PA must turn to the UN General Assembly and the rest of its agencies," he added.
Barghouti was arrested by Israeli troops in Ramallah in April 2002 and first appeared in an Israeli court the following August - charged with the killing of 26 people.
Throughout his trial, he refused to recognise the legitimacy of the Israeli court. His lawyers insisted he was only a political leader.
In 2004, Barghouti was convicted on the murder of four Israelis and a Greek monk, as well as attempted murder, conspiracy to murder, and membership of a terrorist organisation.
The court found there was insufficient evidence connecting him to the 21 other deaths.
From his prison cell, Barghouti has remained an influential figure, helping negotiate a short-lived truce declared by militant groups in 2003, and several other agreements.