Syria unrest: Kofi Annan calls for China's support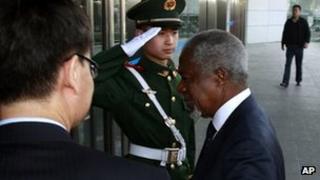 UN-Arab League envoy to Syria Kofi Annan has asked China to support his plan to end violence in the country.
Mr Annan told Chinese Premier Wen Jiabao in Beijing he could not do this job alone and needed "support and advice from countries like yours".
Mr Wen said the situation was "at a critical juncture", and "your mediation efforts will lead to progress".
Russia has supported Mr Annan's plan, which envisages a UN-supervised ceasefire and political dialogue.
Correspondents say Moscow's backing may make Mr Annan's job in Beijing easier.
Russia and China were heavily criticised after vetoing two UN Security Council resolutions condemning the violence, which the UN says has left more than 8,000 people dead.
After meeting the former UN secretary general on Sunday, Russian President Dmitry Medvedev said he fully supported the mission because it might be "Syria's last chance to avoid a protracted and bloody civil war".
Opposition meeting
Chinese officials have said they hope the talks will find a solution to the conflict, but are wary of backing proposals that call for a change of government.
"China values and supports the mediation efforts of Mr Annan and hopes this visit will allow in-depth discussions on a political resolution of the Syrian issue," foreign ministry spokesman Hong Lei said on Monday.
Syria's divided opposition groups are meeting in Istanbul to try to achieve a more united front, ahead of a second "Friends of Syria" meeting on 1 April.
The main opposition coalition, the Syrian National Council (SNC), has called for the gathering to end with a "national oath" committing them to building a democratic state.
A draft declaration proclaimed a new Syria would be "civic, democratic and totally free" and that there should be an election for an assembly which would draw up a new constitution.
The BBC's Jonathan Head in Istanbul says they need a credible and coherent opposition movement if they are to achieve more than the previous meeting in Tunis, which was widely viewed as a failure.
Meanwhile Turkish Airlines says it will stop flights to Syria following the Turkish government's decision to close its embassy in Damascus.
Mr Annan'ssix-point plancalls for President Assad's government to pull troops and heavy weapons out of population centres, and for all parties to allow for a daily two-hour pause to the fighting in order for humanitarian aid to reach affected areas.
The plan also requests that the authorities release those detained in the uprising.
However it does not impose any deadline for Mr Assad, or call for him to leave power.
Earlier Mr Annan's spokesman also said the Syrian government had replied to his six-point peace plan and that he would "respond very shortly".
UN frustration
Meanwhile, one of the investigators on a UN panel documenting crimes against humanity in Syria has resigned because she and her colleagues have not been allowed into the country.
Yakin Erturk of Turkey told the Reuters news agency she felt there was no point in being on the panel.
"There are areas such as detention... which we can only talk about from first hand accounts," she said.
"But there is an urgent need for monitors to visit these detention centres."
Last month the team reported that Syrian forces had shot dead unarmed women and children and tortured wounded protesters in hospital, under orders from the highest level.
Activists say violence is continuing throughout Syrian, with at least eight people dying in further clashes overnight.
The Syrian Observatory for Human Rights reported deaths near Damascus and in the north-west Idlib province.