Ali Ferzat: Revolution redefines art in Syria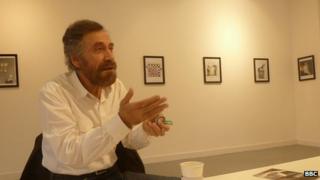 Ali Ferzat's hands sweep and glide and conjure shapes as he sits in a small art gallery behind Sloane Square in London where his sly deconstructions of authoritarianism are on show.
These are the hands that pricked and provoked the mukhabarat - the security police - in Syria into trying to smash them into silence.
It was last August when he was attacked by masked men in what he describes as one of the most secure parts of Damascus.
"I was beaten here, here and here," he gestures. "My arms were black from the beating."
He was dumped by the side of the road. The attack made headlines across the world.
Getting personal
Wiry and angular like Ferzat himself, his hands are now almost 90% back to normal, he says.
The beating came as his style changed from general ridicule of the political system in Syria to specific caricatures of President Bashar al-Assad and his circle.
Ferzat says the switch had begun several months before the protest movement erupted last year.
"I started to get personal," he explains. "Before, I made sure not to draw any official that could be recognised, even though my cartoons were based on real people. And even if someone in power felt they were being targeted, they wouldn't say anything, because that would be like confirming it really was them."
The change is evident from looking at one of his best-known cartoons where a brutish - but generic - apparatchik scrawls a smile on the bandaged face of a beaten prisoner.
Compare that to one of the drawings he did just before his beating.
It shows President Assad himself sweatily clutching a suitcase as he tries to hitch a ride with Colonel Muammar Gaddafi of Libya, who's furiously driving a getaway car.
Stinging wasp
Another shows the Syrian president again - this time flexing in uniform in front of a mirror which reflects back a dominant, muscular image that contradicts the far punier reality.
That cartoon reveals Ferzat's own dealings with President Assad, where he soon found the rhetoric of change fell far short of the reality.
He recalls that when Mr Assad first came to power, the artistic community in Syria tried to win him over to its side.
Ferzat himself was allowed to start his own satirical magazine - the first independent paper to be licensed for decades.
But he soon ran into trouble with the security services.
He broached his problems with Mr Assad at one of the photo opportunities designed to show that that the new leader was more open than his austere, authoritarian father.
"He told me that when you provoke a wasp into stinging you, you have to pull the sting out by yourself. No-one else can do it for you."
That - he says - was when he realised that Mr Assad was incapable of backing up his talk of reform with action.
The magazine was soon closed down, despite or perhaps because of its popularity.
But the cartoonist continued with his mockery of state repression in the state newspaper, Tishreen.
Huge cultural change
Two Syrian activists sitting in the London gallery with him describe how they grew up studying his cartoons in the otherwise stultifying party-line paper, decoding their messages.
One of them says he was actually arrested for printing and distributing one of the cartoonist's pictures. He leans over to shake the cartoonist's hand as he jokes how it was thanks to him that he spent four months in prison.
Since his beating, Ferzat has remained outside Syria. For some time, he was unable to draw. He says he began writing his satirical sketches rather than drawing them.
The past year, he says, has witnessed a huge cultural as well as political change in his country.
"The uprising has redefined art in Syria," he says. "It's exposed the gulf between real artists and mercenaries in the pay of the state. Most - many of them my colleagues - have failed that test. It's changed what Syrians see as art.
"There's a new revolutionary art in what people have been writing and drawing and singing in the protests - true to the pulse of the street. It's unleashed a new creativity among ordinary people - allowing them to speak and express themselves in ways they never could before."
Silenced
Some have paid a far heavier price than he has.
Ibrahim Qashoush is an example. He produced an anti-Assad song that became one of the great rallying cries of the protest movement. He was killed - and his vocal cords removed.
But Ferzat says that one of the great differences between the way the uprising is perceived inside Syria rather than outside is the question of fear.
Syrians in the diaspora are still fearful, he says, but those inside are free of that once crippling burden.
"What I want to tell people who say they are afraid of what may now happen in Syria is that there is no such thing as a sanitised revolution," he says.
"Everything that has been done to the country - however negative - will have to come to the surface in order for us to deal with what has been done to us over the past 50 years.
"Things will have to take their course, but that is not a reason to be afraid."