Attack on Syrian bus in Sermin 'kills 10'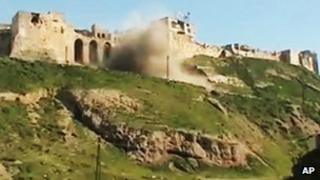 Opposition groups in Syria say at least 10 civilians on a bus trying to flee to Turkey have been killed.
The group, which included women and children, was shot at in the northern town of Sermin, according to the Syrian Observatory for Human Rights (SOHR).
It is not possible to verify the reports as the Syrian government restricts access for journalists.
Opposition sources say that altogether about 60 people were killed in violence across the country on Thursday.
That tally includes government soldiers killed in clashes.
Part of Hama was "heavily shelled" by government tanks, the groups claimed.
They said there was heavy fighting in the Arbaeen quarter of the city, which is one of the main centres of opposition to President Bashar al-Assad.
It follows clashes between the Free Syrian Army and the security forces in the area on Wednesday.
The local revolutionary council says that 12 people were killed in that fighting.
It describes the northern and eastern districts of Hama as "a battlefield", and says bodies are having to be buried in a local park.
Witnesses say several buildings have been destroyed and many civilians have been wounded.
Videos posted on YouTube purport to show tanks being deployed in Hama, and a tank being blown up by Free Syrian Army fighters.
Activists have also uploaded images which appear to show night-time anti-government demonstrations in Hama.
There have been further reports of heavy shelling from three directions at Sarmin, which is in Idlib province.
The SOHR - which is based in Britain - says government troops are trying to storm the town, which is being bombarded with artillery and large calibre machine-gun fire.
On Wednesday the United States warned Syria to co-operate with a UN-backed peace plan, put forward by the UN's envoy Kofi Annan.
It calls for an end to all violence, secure humanitarian access and a political transition.
The plan has now been endorsed by the UN Security Council, with support from Russia and China.
The UN says more than 8,000 people have been killed in the year-long uprising in Syria, while tens of thousands of people have fled their homes.
The government in Damascus is trying to quell an increasingly armed rebellion that sprang from a fierce crackdown on peaceful pro-democracy protests a year ago.
Mr Assad insists his troops are fighting "armed gangs" seeking to destabilise Syria.