Syria opposition groups accused of human rights abuse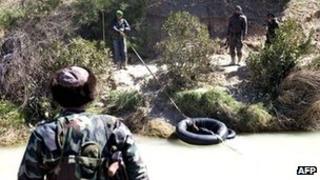 US campaign group Human Rights Watch (HRW) says elements of Syria's armed opposition have carried out serious human rights abuses, including kidnapping, torture and execution.
The group says the "brutal tactics" of the government cannot justify abuses by armed opposition groups.
HRW calls on the opposition leadership to speak out and condemn those abuses.
It made the statementin an open letterto the main opposition coalition, the Syrian National Council (SNC).
According to HRW, abuses include kidnapping for ransom, detention, and torture of security force members, government supporters, and people identified as members of pro-government militias, called Shabiha.
HRW says it has also received reports of executions by armed opposition groups of security force members and civilians.
"The Syrian government's brutal tactics cannot justify abuses by armed opposition groups," said Sarah Leah Whitson, Middle East director at HRW.
"Opposition leaders should make it clear to their followers that they must not torture, kidnap, or execute under any circumstances."
The group said many of the anti-government groups reported to be carrying out abuses did not appear to belong to an organised command structure or to be following Syrian National Council orders.
HRW has frequently accused Syria's government of abuse over the past year of conflict.
The UN says more than 8,000 people have been killed in the year-long uprising, while tens of thousands of people have fled their homes.