Russia joins Red Cross call for daily truce in Syria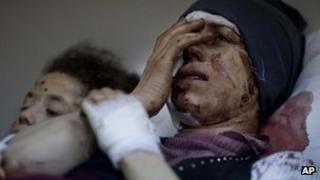 Russia has joined the International Committee of the Red Cross (ICRC) in calling for a daily two-hour humanitarian ceasefire in Syria.
In a statement, the foreign ministry called on the government "and all armed groups who oppose it" to agree to ceasefires "without delay".
Russia has twice vetoed Western-backed draft resolutions on Syria at the UN Security Council.
Its call came hours after clashes erupted in part of the Syrian capital.
The head of the ICRC, Jakob Kellenberger, had travelled to Moscow to discuss a ceasefire arrangement with Foreign Minister Sergei Lavrov.
The organisation says a daily pause in fighting is needed to evacuate the wounded from the worst affected areas and allow in food and medicine.
Mr Kellenberger said Russia's support for its appeal was "very important" and that he noted it with "satisfaction and gratitude".
"The most important issue for us is to ensure humanitarian ceasefires as soon as possible," Russian media quoted him as saying.
He said the prospect of more Syrian cities being subjected to the intense military bombardment seen in Homs earlier this year was "absolutely unacceptable".
'Concrete results'
Russia is a key ally of Syria and, along with China, has thwarted attempts to agree to a UN resolution condemning President Bashar al-Assad's actions.
In its statement, Moscow said it supported the ICRC's demands and urged the Syrian authorities to give the organisation "access to all detained persons in Syria following the protests".
The BBC's Daniel Sandford in Moscow says the announcement could be interpreted as a hardening of Russia's public position on Syria, though Moscow has been calling for a permanent ceasefire on both sides for months.
ICRC spokeswoman Victoria Zotikova told AFP news agency the organisation hoped to see "concrete results of such meetings on the ground in the coming days and weeks".
The UN says more than 8,000 people have been killed in the year-long uprising, while tens of thousands of people have fled their homes.
Overnight, the Syrian capital, Damascus, experienced some of its heaviest fighting since the uprising began.
Witnesses said machine-guns and rocket-propelled grenades were heard from the heavily guarded district of al-Mezze, where several security buildings are located and which has seen several large anti-government protests.
Syrian TV said three "terrorists" and a security force member had been killed, while the UK-based Syrian Observatory for Human Rights said four rebel fighters had died.
State television said that in addition to the dead, several people on both sides were injured.
The latest incident follows bomb blasts in Damascus and the northern city of Aleppo over the weekend in which nearly 30 people died and scores were wounded.
On Monday, a team of experts representing the joint UN and Arab League envoy Kofi Annan arrived in Syria to press his proposals for a ceasefire and monitoring.
A spokesman for Mr Annan told AFP news agency the group were experienced in "peacekeeping and mediation" and would stay in Syria "for as long as they are making progress to reach agreement on practical steps to implement Mr Annan's proposals".
Mr Assad is trying to quell an increasingly armed rebellion that sprang from a fierce crackdown on peaceful pro-democracy protests a year ago.
He insists his troops are fighting "armed gangs" seeking to destabilise Syria.