Press tributes to Coptic Pope Shenouda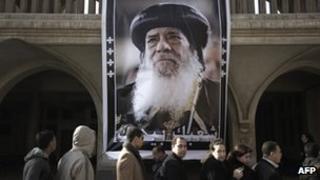 Newspapers in Egypt are grappling with the impact Pope Shenouda's death will have on national unity at a time of rising tensions between religious faiths.
Many pay tribute to his role as a statesman-like Christian figurehead, while elsewhere in the Middle East papers praise his delicate balancing skills in upholding Christian interests in a Muslim majority country.
On Facebook and Twitter, there is a fierce debate about the direction the pope led the Church, and fresh criticism of Egypt's military rulers in the wake of his death.
Faruq Juwaydah in Egypt's Al-Ahram
"Pope Shenouda III passed away at a time when Egypt needs such great hearts, enlightened minds and wisdom-filled souls. Shenouda was a statesman par excellence. He was not a religious symbol for Egypt only, but rather for the Arab world."
Egypt's Al-Jumhuriyah
"Egypt has lost a great symbol of national unity. He has been a big barrier against internal extremism and external intervention. The entire Muslim world will not forget his stance in support of Jerusalem when he asked the Copts not to visit it as long as it is under Israel's occupation. The Egyptian people will not forget his nationalist stances and will continue to follow his principles and objectives for which he struggled until the last breath."
Abbas al-Tarabili in Egypt's Al-Wafd
"He was a lion who raised up his head in dignity even in the face of tempests."
Egypt's Al-Misri al-Yawm
"With the renewal of sectarian tensions after Hosni Mubarak was deposed, some youth-led Coptic groups came into being to promote a revolutionary and confrontational discourse on Coptic rights and demands. The emergence of such groups has been seen as an act of rebellion against the clergy's decades-long tradition of avoiding confrontation. Throughout Mubarak's tenure, the Shenouda-led church adopted a quiescent attitude with regard to the government, despite the recurrence of sectarian incidents… and discrimination in the distribution of public sector jobs."
The Daily News Egypt Online
"While critics saw him as limiting the representation of the Christian community to one figure, many Coptic Christians saw Shenouda as the bridge, communicating their worries to the country's predominant Muslim leaders."
Abd-al-Bari Atwan in Pan-Arab Al-Quds Al-Arabi
"The huge loss following the death of Pope Shenouda III was not only a loss for our Christian Coptic brothers, but also to Egypt and the entire Arab world. His death comes at such a critical moment that it requires leaders of our nation to have the wisdom, nationalism and consideration to preserve unity... The death of Pope Shenouda III is a loss for Muslims too."
Yusuf Abu Lawz in UAE's Al-Khalij
"Egypt has lost a man who the Egyptian people say was a safety valve against sedition. May God protect Egypt and other Arab countries from the fire of sedition which, if ignited, devours everything and everybody."
Jordan Times
"In his death, Egypt's 10 million Christians have lost a seasoned protector at a bad time… During his 40 years as patriarch, Shenouda strove to ensure his place among the main players in this mainly Muslim nation, pressing demands behind the scenes while keeping Christians' anger over violence and discrimination in check. It was a delicate balancing act undertaken for years by a man who kept a relatively high media profile during most of the past four decades."
Twitter in Arabic
Human rights activist and presidential hopeful Khalid Ali (username @Khaledali251): "Farewell Pope Shenouda III, we have lost one of the symbols of Egypt's modern history."
"Marwah Khalil", username @Marwa_Khalil: "I think the Pope harmed Copts and Muslims when he isolated Copts inside the church, which went beyond its spiritual role under the Pope."
Blogger and activist Ala Abd-al-Fattah, username @alaa, replies: "I have a different view regarding the role he played. He had no other alternative. The church cannot afford to pay the cost of the revolutionary alternative."
Facebook in Arabic
The Supreme Council of the Armed Forces (www.facebook.com/Egyptian.Armed.Forces): "The head and members of the SCAF, military officers and soldiers offer condolences to the Egyptian people and brother Christians… We wish that the pope's hopes of preserving Egypt's unity will be fulfilled."
"Amal Zaki" commented: "How dare you offer condolences after your practices of killing people and stripping women of their clothes? You cold-bloodedly killed our children, and ran over our Coptic brothers with tanks."
The 6 April Youth Movement - the Democratic Front, Alexandria (www.facebook.com/6april.alex): "(Armed Forces chief) Tantawi gave Copts a three-day vacation to bid farewell to Pope Shenouda, but did not give them a single day to bid farewell to Copts who were run over by his armoured vehicles on 9 October."
BBC Monitoringselects and translates news from radio, television, press, news agencies and the internet from 150 countries in more than 70 languages. It is based in Caversham, UK, and has several bureaux abroad.