Egypt's Coptic Christians hold second vigil for Pope Shenouda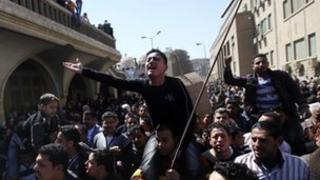 Egypt's Coptic Christians have begun a second night of mourning for their spiritual leader Pope Shenouda III, who died on Saturday at the age of 88.
A Mass has been held for the pope, who led the Church for four decades, and world leaders have paid tribute to him.
Thousands of mourners came to see the pope's body, which was on display in St Mark's Cathedral in Cairo.
His funeral is due to be held on Tuesday, and Copts have been given three days off work to prepare.
Coptic Christians make up 10% of Egypt's population of 80 million, making them the Middle East's largest Christian minority.
After attacks on Coptic Christians by Islamist militants in recent years, Pope Shenouda had urged officials to do more to address the community's concerns.
Protector
A crowd of mourners estimated to be larger than 100,000, spent Saturday night outside St Mark's Cathedral, many weeping as they prayed for the pope.
Thousands queued to see Pope Shenouda, whose body was placed in a coffin before being seated on a ceremonial throne wearing embroidered vestments and a golden mitre, and holding a gold-topped staff.
"The holy pope was able to gain the love of even those who held different opinions and I believe this will be a difficult thing to replace," said a mourner named as Samir.
"But God protects the Church and he will find a suitable patriarch."
The BBC's Jon Leyne in Cairo says the massive crowds bear witness to the huge love and respect for Pope Shenouda.
He was seen as a leader who did his best to protect the Coptic Christians at a time when Islamism was on the rise, our correspondent says.
But his deep conservatism, including opposition to divorce, was not always popular with younger Christians.
The first challenge for the new leader of the Church will be to reassure Copts of their place in a country whose largest political party is now the Islamist Muslim Brotherhood, our correspondent adds.
There is no timetable yet for the selection of his successor, who will be elected by a conclave of senior bishops.
Tributes have come in from around the world, with Roman Catholic Pope Benedict XVI offering prayers and US President Barack Obama praising Pope Shenouda as an "advocate for tolerance and religious dialogue".
Egypt's military rulers expressed the hope on their Facebook page that his wish of "preserving the unity of Egypt and the unity of its social fabric" would be achieved.
And a senior Muslim cleric, the Grand Imam of the prestigious al-Azhar university, Ahmed al-Tayeb, expressed sorrow and said he "greatly remembers his vision towards Jerusalem and its history".
Pope Shenouda had returned recently to Egypt after seeking treatment abroad.