US teacher 'shot dead' in Yemen's second city of Taiz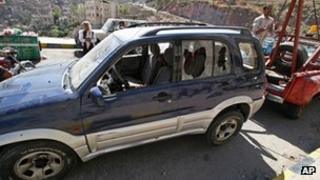 An American language teacher has been shot dead by gunmen in Yemen's second city of Taiz, officials say.
He is reported to be deputy director of a Swedish language centre in the city.
The teacher was driving to work on Sunday morning when he was fired on by gunmen on a motorbike, officials said.
The al-Qaeda-linked militant group Ansar al-Sharia said it carried out the attack "in response to a Western campaign to preach Christianity among Muslims".
Swiss kidnapping
A statement from the International Training Development Centre in Taiz identified the victim as Joel Shrum. He had been living in Yemen with his wife and two children since 2010.
Yemen had experienced nearly a year of unrest before President Ali Abdullah Saleh agreed to step down, at the end of last year, after 33 years in power.
His vice-president, Abdrabbuh Mansour Hadi, took office last month.
The unrest has enabled militant groups linked to al-Qaeda, such as, to gain footholds in provinces in the south of the country.
Taiz, some 270km (173 miles) south-west of the capital Sanaa, has been a major centre of opposition to Mr Saleh's leadership, but has not experienced the same level of militant activity as other parts of the south.
Last year, militants took control of Zinjibar, capital of Abyan province, and several other towns.
Reports on Sunday said militant positions in Zinjibar and the nearby city of Jaar came under attack from missiles fired by Yemeni government forces, but details remain sketchy.
A Swiss woman, also believed to be a language school teacher, was kidnapped on Wednesday in the coastal city of Hodeida, and is reportedly being held in in Shabwa province, which neighbours Abyan province.