Moqtada al-Sadr-linked Iraq militants free US captive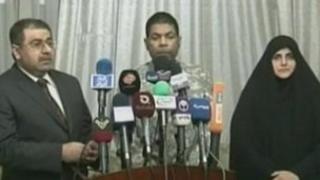 An Iraqi militant group has freed a former US soldier held since last year.
A US state department official said the man was now with the US embassy in Baghdad after he was handed over to the UN mission in the Iraqi capital.
The Promised Day Brigade, a Shia group loyal to radical cleric Moqtada Sadr, announced the release in a pre-recorded news conference.
It showed a man in US military uniform saying he was kidnapped in June, but was in a civilian capacity at the time.
The state department official said: "We can confirm the release of a US citizen from apparent dentition in Iraq. The Unami [UN Assistance Mission for Iraq] has transferred a US citizen to the US Embassy in Baghdad... Due to privacy considerations we are unable to provide any additional information at this time."
Earlier, a UN spokeswoman said two senior Iraqi legislators had handed over the US citizen on Saturday evening "whom they said has been in detention for about nine months by an Iraqi armed faction".
UN spokeswoman Radhia Achouri did not identify the man.
In the video of the news conference released by The Promised Day Brigade, a spokeswoman for the militants named the man as Randy Michael, with a possible surname that is inaudible.
A person dressed in a US military uniform said he had been deployed to Iraq in 2003, and stayed there for 15 months. He said he was abducted on 18 June last year, when he was working as a civilian.
"I was taken inside Baghdad and have been kept in and around different locations within the city by al-Maoud [Promised Day Brigade]," he said.
"It was explained to me that my release has been for humanitarian reasons and that there was no exchange involved."
The BBC's Rami Ruhayem in Baghdad says the announcement appears to have taken everyone by surprise, including the US.