Swiss woman kidnapped in western Yemen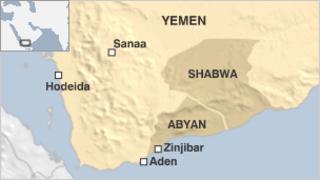 A Swiss woman has been kidnapped by armed men in Yemen, officials say.
The woman was seized on Wednesday in Hodeida on the west coast, where she works as a teacher, but is reportedly being held in Shabwa province.
The Swiss foreign ministry said it was in contact with Yemeni authorities to ensure the woman's release and safety.
Several officials blamed tribesmen, who they said were demanding the release of jailed relatives. But tribal elders and one official said it was al-Qaeda.
"The kidnapping bears the hallmark of al-Qaeda," a security official told the AFP news agency.
Al-Qaeda in the Arabian Peninsula (AQAP) is known to have bases in south and south-eastern Yemen. The organisation has been battling government forces and has been targeted in air strikes by US drones.
Militants believed to be linked to al-Qaeda have exploited a security vacuum in the region after months of protests demanding the resignation of former President Ali Abdullah Saleh.
Last year, militants took control of Zinjibar, capital of Abyan province, and several other southern towns.
Kidnaps of foreigners are relatively common in Yemen. They tend to be resolved peacefully, with the kidnappers making demands for services from the government in return of the release of their prisoners.
BBC Arabic's Islamic Groups analyst, Murad al-Shishani, says AQAP recently distributed leaflets across Aden threatening to attack English-language institutes in the city.
The leaflet asked for "immediate cessation of study in these centres", which would otherwise be "vulnerable to attacks".