'Assad emails' shed light on Syrian leader's private life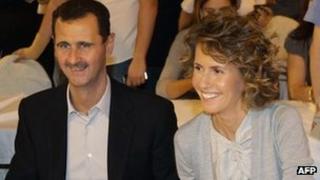 The Guardian newspaper in London has publisheddetails of more than 3,000 documentsthat Syrian opposition activists claim are emails downloaded from private accounts belonging to Syria's first couple.
The newspaper says it believes the messages are genuine, although it admits it has not been possible to verify every one.
They are said to have been intercepted by members of the Supreme Council of the Revolution between last June and early February, according to the Guardian.
If genuine, they have provided some fascinating insight into the private life of President Bashar al-Assad and his British-born wife, Asma.
The emails appear to show that Mr Assad received advice from Iran on several occasions during the year since the Syrian uprising began. In December a Lebanese businessman, Hussein Mortada, who has connections to Iran, apparently urged Mr Assad to stop blaming al-Qaeda for a double car bombing in Damascus.
Mr Mortada wrote: "I have received contacts from Iran and Hezbollah and they directed me not to mention al-Qaeda is behind the operation. It is a blatant tactical media mistake."
There was also some forthright advice at the end of last year to the president's wife, Asma, from a daughter of the emir of Qatar, Mayassa al-Thani. She appears to have written: "The opportunity for real change and development was lost a long time ago. Nevertheless, one opportunity closes, others open up - and I hope it's not too late for reflection and coming out of the state of denial."
'White gold diamonds'
By the end of January, a second email from Qatar said: "In all honesty - looking at the tide of history and the escalation of recent events - we've seen two results - leaders stepping down or getting asylum or leaders being brutally attacked. I think this is a good opportunity to leave and restart a normal life. I am sure you have many places to turn to, including Doha."
The Syrian president appears to be identified in the secret emails as "Sam", and his wife as "AL" or "AAA" or "Alia".
The emails with her signatures suggest a liking for expensive designer goods. In July 2011, AK wrote placing an order for jewellery from a Paris workshop. She requested four necklaces: "One turquoise with yellow gold diamonds and a small pave on side", as well as a cornaline, "full black onyx" and "amethyst with white gold diamonds".
Also documented are email orders for thousands of dollars worth of candlesticks, tables and chandeliers. When hand-made bedside tables were shipped from London, "Alia" complained they had "different finishes and they have different colour drawers".
By early February, when opposition fighters in the Syrian city of Homs were under siege from government forces, Mrs Assad was apparently browsing the internet for luxury shoes, and writing to her friends about 16cm (6in) high heels that cost more than $5,000 (£3,200).
The Guardian says it was told by activists that access to the Assad emails was provided by a mole in the president's office.