Israeli collector 'not guilty' in Jesus burial box case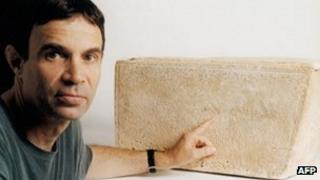 The authenticity of a burial box said to belong to Jesus' brother James remains a mystery at the end of a seven-year forgery trial.
Israeli collector Oded Golan was cleared of forgery in a Jerusalem court on Wednesday, a decade after he first displayed the burial box, or ossuary.
But experts failed to determine conclusively whether the ossuary and other artefacts were fakes.
The casket was hailed in 2002 as the oldest archaeological link to Jesus.
The small limestone ossuary is inscribed with "James, son of Joseph, brother of Jesus" in Aramaic and, if real, would be over 2,000 years old.
The Roman Catholic and other Christian churches believe Jesus had no siblings, but James is mentioned in the Gospels as Jesus' brother. He is thought to have been stoned to death in 62 AD.
Around the same time as the so-called "James Ossuary" was first brought to the world's attention, Mr Golan announced another major discovery, the Jehoash Inscription.
This stone tablet is supposedly carved with a Hebrew text that describes renovation work on the first biblical temple by King Jehoash nearly 3,000 years ago.
Finds or fakes?
The Israeli Antiquities Authority later said the burial box and stone tablet were fakes, arguing that the circumstances surrounding their discovery are murky. Mr Golan claims he picked them up from Arab traders in East Jerusalem.
In 2004, Mr Golan was charged with leading an international forgery ring to make and trade phoney biblical artefacts.
A trial followed that went on for seven years, drew on the testimony of more than 100 experts witnesses and ended in a 475-page verdict document - but still no decision on whether the burial box is real or a fake.
After the verdict, Judge Aharon Farkash of the Jerusalem District Court said there were so many specialists with conflicting claims that he could not determine beyond a reasonable doubt whether the ossuary and other purported finds were authentic.
Mr Golan said he was "very happy" at the court's decision.
"I have been a collector for tens of years. I have saved hundreds of thousands of antiquities that were found mainly in Judea and Samaria [West Bank]," he told Associated Press.