Syrian troops 'take control of northern city of Idlib'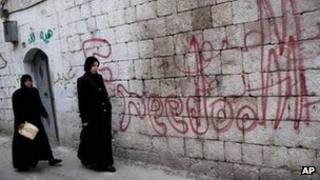 Syrian government forces have taken control of the north-western city of Idlib, after days of clashes with rebel fighters, opposition activists say.
Security forces are now reportedly carrying out house-to-house searches in the area, which has been a stronghold of the Free Syrian Army (FSA).
It is not clear where the rebels have gone, or how many people have died.
Meanwhile, the UN envoy to Syria has said President Bashar al-Assad has sent a response to a proposed peace plan.
Kofi Annan was considering the reply but had questions "and was seeking answers", his spokesman said.
The plan delivered to Damascus by the former UN secretary general, who is also representing the Arab League, includes demands for an immediate ceasefire by both sides, access for humanitarian aid, and the beginning of political dialogue.
Syrian foreign ministry spokesman Jihad al-Maqdisi told the BBC that President Assad's response had been positive because he wanted Mr Annan's mission to succeed.
"It is in Syria's vital interest to have a successful mission for Mr Annan, because Syria believes in a political solution to this crisis," he said.
However, officials told the Associated Press that the Syrian response did not mention steps towards a political transition that would see Mr Assad step down, an end to government attacks on protesters and the withdrawal of troops from urban areas.
Mr Annan will brief the UN Security Council on his mission on Friday.
Embassy closed
Saudi Arabia has closed its embassy in Damascus and withdrawn all remaining staff because of the violence.
The kingdom had already withdrawn its ambassador and expelled Syria's envoy from Saudi Arabia.
The United States, UK and France have all closed their embassies in Damascus in recent weeks.
On Monday, the president of the UN General Assembly said more than 8,000 people had been killed since the uprising began last March.
Deraa shelled
Despite the visits to Syria by Mr Annan and UN humanitarian chief Valerie Amos last week, fighting has continued unabated, with activists accusing troops and pro-government militia of killing scores of civilians.
Activists said the Free Syrian Army had withdrawn from Idlib, a predominantly Sunni Muslim city not far from the Turkish border with a population of about 150,000.
"Regime forces have stormed the entire city and are carrying out house-to-house searches," Noureddin al-Abdo, an activist in the city, told the AFP news agency.
"The FSA preferred to withdraw because everyone knows it cannot resist the army," Mr Abdo added.
The Local Co-ordination Committees, an activist network, said 16 corpses had been found on the streets, many of them bearing signs of torture. It put the nationwide death toll at 38.
The army began an offensive on Idlib province on Saturday, in an effort to crush "armed terrorist gangs". Now the provincial capital has been retaken, activists expect troops to advance into the countryside.
At least four people were killed in fierce clashes between rebel fighters and security forces in the nearby Jabal al-Zawiya region on Wednesday, the Syrian Observatory for Human Rights reported.
Government forces were also reported to have been shelling the southern city of Deraa.
One resident told the BBC that troops had been targeting houses using tank and artillery fire.
Abu Ahmed said residents were not able to leave their houses and people were panicking, fearing the intensity of the shelling would cause homes to collapse.
The Free Syrian Army spokesman in Jordan, Muncif al-Zaim, said there were about 130 tanks in the area, and reports of dead and wounded.
The Syrian Observatory for Human Rights later said 13 civilians and seven army defectors had been killed by security forces in Deraa.
The BBC's Dale Gavlak in Amman says some reports have called the military assault on Deraa the most violent since April, when the city came under a heavy siege.
They suggest that the government may be preparing for an offensive similar to that launched against Idlib and Homs, our correspondent adds.
'Systemic torture'
The violence comes two weeks after troops backed by tanks entered the shattered Baba Amr district of Homs, which had been under bombardment for almost a month, leaving an estimated 700 people dead.
On Wednesday, Syria's state news agency, Sana, meanwhile reported that "armed terrorist groups" had killed 15 people, including a woman and her four children, in the Karm al-Louz district.
It also said two senior army officers were killed after gunmen opened fire on their car in the countryside outside the northern city of Aleppo.
Overnight, the human rights group Amnesty International called for the prosecution of those responsible for torturing civilians in Syria during the suppression of anti-government protests.
Security forces had created a "nightmarish world of systemic torture", which was "intended primarily to degrade, humiliate and terrify its victims into silence", it said.
The group added that it hadcounted 31 different forms of torture while interviewing Syrians who had fled into Jordan.
Meanwhile, three prominent members of the main opposition coalition, the Syrian National Council (SNC), have announced their resignation.
Haitham al-Maleh, a long-standing dissident, opposition leader Kamal al-Labwani and human rights lawyer Catherine al-Talli wrote on Facebook that they were quitting due to "differences" and the SNC's "inefficiency".
The Turkish newspaper, Milat, said it had lost contact with one of its reporters, Adem Ozkose, and a freelance cameraman, Hamit Coskun, working in northern Syria. They were last heard from on Saturday when they called from near Idlib.