Suicide attack kills soldiers in southern Yemen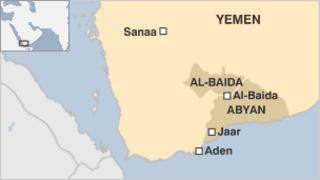 At least three soldiers have been killed in a suicide bombing in the south of Yemen claimed by an al-Qaeda-linked group, security officials say.
Another four soldiers were critically wounded when the bomber blew up a vehicle laden with explosives at an army post outside the town of al-Baida.
The militant group Ansar al-Sharia said it was behind the attack.
Later, a government air strike targeted a car driving through the area carrying militants, killing at least four.
Officials told the Associated Press news agency that a leader of al-Qaeda in the Arabian Peninsula (AQAP) identified as Nasser al-Zafari was among the dead.
But others told the AFP news agency that he had been killed fighting security forces in a clash that broke out after the al-Baida bombing.
'Revenge'
Tuesday's bombing outside al-Baida is the latest in a string of attacks Islamist militants in southern Yemen since President Abdrabbuh Mansour Hadi took office last month vowing to fight al-Qaeda and its allies.
"The attacker who drove the car made it explode when it stopped at a checkpoint," a police source told Reuters.
The source said it sent shrapnel flying, killing several soldiers instantly and leaving at least four with critical wounds.
In a text message, Ansar al-Sharia said it had carried out the bombing and that 27 soldiers had been killed. It also said three of its own fighters had died - the bomber and two gunmen.
The attack, it said, was revenge for recent air strikes by US drones on al-Baida and Abyan. More than 60 militants are believed to have been killed in the past week by air strikes attributed to the US and Yemeni military.
Ansar al-Sharia also said it had taken one soldier captive, in addition to the 73 it claimed to be holding last week. The group said on Monday that it would release the soldiers if Islamists were released from Yemen's jails.
Last week, an attack on an army base by Ansar al-Sharia militants left at least 110 troops dead.