Syria unrest: Arab League calls for neutral inquiry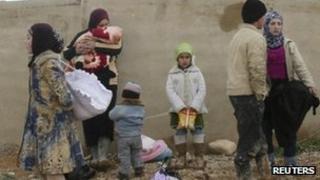 The Arab League has called for a "neutral international investigation" into crimes conducted during the Syrian government's crackdown on anti-regime protesters.
League chief Nabil al-Arabi said the "horrendous elimination" of entire families could be described as crimes against humanity.
The UN estimates some 8,000 people have died in the year-long uprising.
Human Rights Watch says the regime is now laying landmines along its borders.
The group called on Syria to immediately cease laying mines, calling them "militarily ineffective" weapons that will kill and injure mostly civilians for years to come.
The BBC's Jonathan Head, in Hatay on the Turkish side of the border with Syria, says he has seen refugees arrive who have lost limbs because of the mines.
He says the refugee camp at Hatay, run by the Turkish Red Crescent, is receiving up to 200 refugees a day as they flee the army assault on the city of Idlib and surrounding villages just across the border in Syria.
In other developments:
The Local Co-ordination Committees, an umbrella group of opposition activists, said 46 people had died on Tuesday, most of them in Homs and Idlib
Diplomats said the Syrian government had responded to proposals made by special envoy Kofi Annan, but released no details of the reply
President Bashar al-Assad set 7 May as the date for parliamentary elections, a move the US dismissed as "ridiculous"
Justice plea
The regime's forces have stepped up their assault on rebellious strongholds in the past two months.
They launched a ground assault on the Baba Amr district of the city of Homs last month, after weeks of shelling.
And reports in recent days suggest other towns and cities, particularly in Idlib province, are now under attack.
Activists have spoken of shells raining down on civilian areas, and scores of women and children being killed.
"There must be a neutral international investigation to unveil the truth of what is happening and to identify those responsible for these crimes and to bring them to justice," said Mr Arabi in a statement carried by Egyptian state news agency Mena.
"The acts of killing and horrendous elimination of whole families including women, children and elders can be described as crimes against humanity."
The UN's refugee agency (UNHCR) has warned of increased hardship among tens of thousands of people who have fled their homes to escape the fighting.
Mr Annan has held talks in Turkey with the opposition Syrian National Council, and said they had promised their full co-operation.