Syria laying landmines along border: Human Rights Watch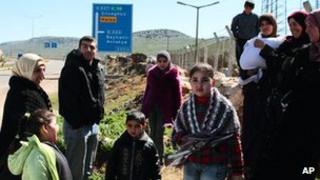 Syria is laying landmines near its borders with Lebanon and Turkey, along routes used by refugees to escape the violence, Human Rights Watch reports.
The New York-based group quotedaccounts from witnessesand deminers.
UN-Arab League envoy Kofi Annan is in Turkey and has met Syrian opposition figures during his peace mission. He says he expects Damascus to reply on Tuesday to his proposals on the crisis.
Meanwhile, the UN says 230,000 Syrians have fled their homes in the past year.
The UN High Commissioner for Refugees says 30,000 have fled abroad while 200,000 are displaced within Syria.
The UN says more than 8,000 people - many of them women and children - have been killed since the anti-government protests erupted.
'Unconscionable'
Human Rights Watch (HRW) called on Syria to immediately cease laying landmines, calling them "military ineffective" weapons that will kill and injure mostly civilians for years to come.
The group said it had been told by a 28-year-old former Syrian Army deminer that he and a group of friends removed around 300 mines from the Hasanieih area in early March, along routes used by refugees to reach Turkey.
A 15-year-old boy described losing a leg to a landmine after trying to help a friend of a family, wounded in the government assault on the Baba Amr district of Homs, to cross the border into Lebanon.
"I was less than 50-60m [165-195ft] away from crossing the border when the landmine exploded," he said, adding that the friend died.
"Any use of anti-personnel landmines is unconscionable," Steve Goose, Arms Division director at HRW, said. "There is absolutely no justification for the use of these indiscriminate weapons by any country, anywhere, for any purpose."
Syria - which is not among the 159 nations signed up to the 1997 Ottawa Treaty banning the production, use and stockpiling of anti-personnel mines - has not publicly commented on the claims.
The size and origin of Syria's stockpile of landmines is not clear, HRW said, but is thought to consist mostly of Russian-made weapons - some Soviet-era - such as PMN-2 anti-personnel mines and TMN-46 anti-vehicle mines.
Reports that Syrian troops were laying landmines first emerged last November, when a government official told the Associated Press news agency: "Syria has undertaken many measures to control the borders, including planting mines."
The BBC's Jonathan Head, reporting from Hatay on the Turkish side of the border with Syria, says he has seen refugees arrive who have lost limbs because of the mines.
He says the refugee camp at Hatay, run by the Turkish Red Crescent, is receiving up to 200 refugees a day as they flee the army assault on the city of Idlib and surrounding villages just across the border in Syria.
'Grave concern'
Kofi Annan, the former UN chief who has been appointed by the UN and Arab League to find a peaceful solution to the crisis in Syria, had what he called a "useful meeting" with the opposition Syrian National Council (SNC).
He said they "promised their full co-operation, which will be necessary if we are going to succeed".
Mr Annan, who is on the second day of his visit to Turkey, said he expected a response from Damascus later on Tuesday to "concrete proposals" he put forward during his meeting in Syria with President Bashar al-Assad.
"Once I receive their answer we will know how to react," he added.
Mr Annan has said his peace mission has three objectives; to bring about a ceasefire, provide access for humanitarian aid and start political dialogue.
But he admitted on Monday, after talks with Turkey's Prime Minister Recep Tayyip Erdogan in Ankara, that the diplomatic process would take time and described the situation in Syria as "very complex".
On Monday, UN Secretary General Ban Ki-moon and US Secretary of State Hillary Clinton urged the international community to speak with one voice on Syria.
Mrs Clinton told the UN Security Council that Syria's "horrific campaign of violence" had "shocked the conscience of the world".
"We believe that now is the time for all nations - even those who have previously blocked our efforts - to stand behind the humanitarian and political approach spelled out by the Arab League."
Russia and China have blocked resolutions condemning Mr Assad.
Russia's Foreign Minister Sergei Lavrov said the situation in Syria remained a "grave concern" but warned that change in the Arab world "must not be achieved by misleading the international community or manipulating the Security Council".