More than 8,000 killed in Syria unrest - UN official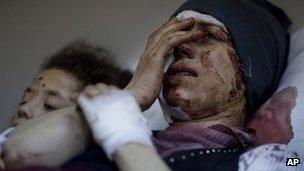 More than 8,000 people have died since anti-government protests erupted in Syria a year ago, a UN official says.
UN General Assembly President Nassir Abdulaziz al-Nasser said many women and children were among the victims.
His comments come as the UN and Arab League envoy to Syria, Kofi Annan, is to meet Syrian opposition in Turkey.
In a separate development, a human rights group accused Syria of laying landmines along its borders with Lebanon and Turkey.
The Human Rights Watch warned that the planting of anti-personnel and anti-vehicle landmines would cause civilian casualties for years to come.
Damascus has not publicly commented on the claim.
Mr Annan is due to meet members of the opposition Syrian National Council in Turkey shortly.
Mr Annan, who last week held talks with President Bashar al-Assad in Damascus, said he was "optimistic" about the possibility of a ceasefire.
He stressed that humanitarian access to violence affected areas and future political dialogue were a priority.
But after Monday's talks with Turkey Prime Minister Recep Tayyip Erdogan in Ankara, Mr Annan admitted that the diplomatic process would take time, describing the situation in Syria as "very complex".
Violence continued across Syria, with activists reporting that at least 47 people were killed in an attack by government militia in the city of Homs.
Women and children are among those reported to have been tortured and killed on Sunday night in the neighbourhood of Karm el-Zeytoun. The Syrian government acknowledged the deaths, but blamed "armed terrorists".
Footage posted on YouTube, said to show the bodies of men, women and children killed in the attack, made for grim viewing, said the BBC's Jon Donnison in neighbouring Lebanon.
In one video, at least 11 bodies can be seen, including at least four young children covered in blood, he adds.
Homs has been under assault for weeks as government forces have tried to root out rebel fighters. Parts of the city are devastated.
Reports are difficult to verify because of tight restrictions on independent media operating in Syria.
On Monday, UN Secretary General Ban Ki-moon and US Secretary of State Hillary Clinton urged the international community to speak with one voice on Syria.
Mrs Clinton told the UN Security Council that Syria's "horrific campaign of violence" had "shocked the conscience of the world".
"We believe that now is the time for all nations - even those who have previously blocked our efforts - to stand behind the humanitarian and political approach spelled out by the Arab League."
Russia and China have blocked resolutions condemning President Assad.
In a clear reference to Moscow and Beijing, she appealed to the international community to "say with one voice - without hesitation or caveat - that the killing of innocent Syrians must stop and a political transition must begin".
Her words echoed those of British Foreign Secretary William Hague, and of Mr Ban who said the Syrian government had "failed to fulfil its responsibility to protect its own people and instead has subjected its citizens in several cities to military assault and disproportionate use of force".
He said the Security Council must "unite strongly" behind Mr Annan's efforts "to help Syria pull back from the brink of a deeper catastrophe".
Russia's Foreign Minister Sergei Lavrov said the situation in Syria remained a "grave concern" but warned that change in the Arab world "must not be achieved by misleading the international community or manipulating the Security Council".
After the meeting, he said the Russian government was in regular contact with Syrian authorities and dismissed suggestions that Russia's opposition to any resolution was single-handedly preventing a solution to the crisis.
"The founding fathers of the UN decided that unless the permanent members agreed on something, decisions could not be sustainable. Let's try to be respectful of each other and each other's positions," he said.
Related Internet Links
The BBC is not responsible for the content of external sites.