West Bank Jewish settlers agree to relocate from Migron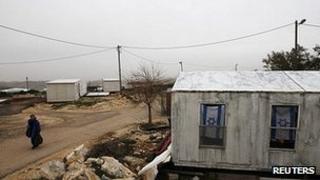 Jewish settlers in the biggest illegal outpost in the West Bank have struck a deal with the government to relocate to a state-built community.
Settlers at the Migron outpost will be moved to a nearby hill and the current site will be put under Israeli military control, Israel radio said.
The Israeli Supreme Court had ordered the Migron outpost, north of Jerusalem, to be demolished by the end of March.
Campaigners against Jewish settlements said the relocation was "a disgrace".
The deal follows months of talks between settlers and Benny Begin, a minister without portfolio in the Israeli government.
He said the agreement would avoid further clashes between settlers and Israeli security forces.
Israel says the new site - 2km (1.2 miles) from Migron - is on land that is not under private Palestinian ownership, unlike the existing site.
About 4,000 settlers live in several dozen hill-top outposts on the West Bank erected without formal government approval since the late 1990s.
The outposts are illegal under Israeli law and Israel agreed to remove them under the 2003 Road Map peace plan.
Last August, the Israeli Supreme Court ruled that the state had to destroy Migron, which has a population of 280.
"This agreement is intended to fulfil the Supreme Court ruling and to prevent unpleasant scenes that we have seen in other places where there was an eviction and demolition of houses," Migron settlers' spokesman Itai Hemo said.
"The government has taken responsibility for a settlement that it erected."
However, a spokeswoman for the anti-settlement advocacy group Peace Now condemned the move.
"This agreement is no less than a disgrace," Hagit Ofran said.
"The government of Israel is actually saying, 'We will not evict Migron, we will not do what the Supreme Court told us. And we will give in to any settlers' threat. It sends a message that Israel (will) build more settlements."
About 500,000 Jews live in more than 100 settlements built since Israel's 1967 occupation of the West Bank and East Jerusalem.
The settlements are considered illegal under international law, though Israel disputes this.