Syria crisis: Annan 'optimistic' after talks with Assad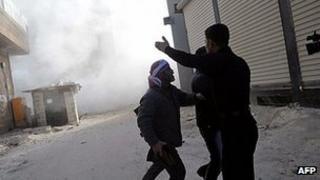 UN-Arab League peace envoy Kofi Annan has said he is "optimistic" following a second round of talks with Syrian President Bashar al-Assad.
He said he had handed over "concrete proposals" to end the bloodshed, but acknowledged no deal was yet in place.
In talks on Saturday, Mr Assad rejected political dialogue while "armed terrorist groups" operated in Syria.
Mr Annan is trying to arrange a ceasefire and gain greater access for humanitarian aid agencies.
But many in the opposition will be sceptical that the Syrian leader will take any notice, the BBC's Jon Donnison reports from neighbouring Lebanon.
Activists say troops are continuing an assault on the north-western city of Idlib where Free Syrian Army fighters are holed up.
The rebel fighters are vastly outgunned and fear a massive prolonged assault similar to that which took place in the city of Homs.
'Candid talks'
Speaking to reporters after his meeting with the Syrian president, Mr Annan said he had presented proposals which, if agreed, "will help launch the process and help end the crisis on the ground".
"Our discussions focused on the core objectives of this process, the immediate stop to the violence and the killing, access for humanitarian agencies and the start of a political dialogue," he said.
He said he had urged Mr Assad to embrace change and reform.
The Ghanaian diplomat, one of the world's most seasoned negotiators, said he had told the president an old African proverb: "You can't turn the wind, so turn the sail."
"It's going to be tough," he said. "It's going to be difficult but we have to have hope."
He said he was "optimistic for several reasons".
"First of all, I've been here for a very short period, almost every Syrian I've met wants peace. They want the violence to stop; they want to move on with their lives," he went on.
But few are hopeful that his mission will bring a swift end to the bloodshed.
Dr Bassma Kodmani, of the opposition Syrian National Council, told the BBC that Mr Assad must stand down as a "first condition" of any negotiations between the government and opposition figures.
For his part, Mr Assad told Mr Annan during their first round of talks on Saturday: "No political dialogue or political activity can succeed while there are armed terrorist groups operating and spreading chaos and instability."
Mr Annan has flown on to Qatar and will visit Turkey on Monday. Both countries have taken a tough line against President Assad's crackdown.
Syrian troops are trying to crush an increasingly armed rebellion that sprang from a harsh crackdown on peaceful pro-democracy protests.
The UN says more than 7,500 people have died since unrest began a year ago.
UK-based activist group the Syrian Observatory for Human Rights said 58 people had been killed in clashes across Syria on Sunday.
The Observatory said 17 civilians and 12 rebels had died in a string of incidents in Idlib province.
Tight restrictions on independent journalists inside Syria mean the figures cannot be verified.
Also on Sunday, gunmen in the north-western city of Aleppo killed former national boxing champion Ghiath Tayfour, Syria's state news agency Sana reported.
It said an "armed group" opened fire on the boxer as he drove past Aleppo University. It was not clear what the motive for his killing might have been.
International disagreements have paralysed action on Syria, with Russia and China opposing Western and Arab calls for President Assad to stand down.
The US has drafted a fresh UN Security Council resolution but the state department said on Friday it was not optimistic that the text would be accepted.