Israel launches fresh air strikes on Gaza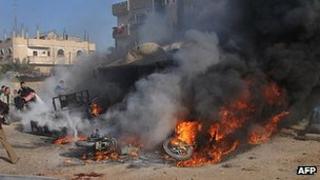 Israeli air strikes have pounded Gaza for a second day, in the worst violence in the region for almost a year.
Palestinian sources said at least 15 militants had been killed in the two days of fighting.
Israel says almost 100 rockets fired from Gaza have struck Israel since the exchange of fire began.
The US condemned the rocket attacks, calling them "cowardly", while the Arab League called the Israeli air strikes "a massacre".
The UN and the European Union have expressed concern and appealed for calm.
The latest flare-up began on Friday when an Israeli air strike on a car in Gaza City killed militant commander Zohair al-Qaisi, secretary general of the Popular Resistance Committees (PRC), and two of his associates.
Gaza militants quickly unleashed a barrage of rockets toward southern Israeli communities.
Palestinian doctors said Israeli air strikes on Saturday killed one person near the southern town of Rafah on the border with Egypt and two more in Khan Younis.
They said that at least 26 Palestinians had been wounded over the two days, five seriously.
Israeli officials said rocket attacks against Israel had injured four people. They said Israel's Iron Dome missile-interception system had taken out 28 rockets heading towards populated areas.
Schools in several southern Israeli communities closed on Sunday, affecting more than 200,000 students, Israeli media reported.
The Israeli army said it struck several targets inside Gaza including "a terrorist squad" planning to fire rockets.
It said the air strikes were "in direct response to the rocket fire at Israeli communities in southern Israel".
Defence Minister Ehud Barak said "the Israeli army will hit anyone planning to attack Israeli citizens".
'Dangerous escalation'
The increase in violence alarmed world powers trying to bring peace talks between Palestinians and Israelis back on track.
US State Department spokeswoman Victoria Nuland said Washington condemned "in the strongest terms" the rocket fire from Gaza, saying the attacks had "dramatically and dangerously escalated".
"We call on those responsible to take immediate action to stop these cowardly acts," she said.
The Arab League issued a statement accusing Israel of carrying out a "massacre".
It called for a tough stance from the international community against the Jewish state.
EU foreign policy chief Catherine Ashton said the bloc was "following with concern the recent escalation of violence in Gaza and in the south of Israel".
"It is essential to avoid further escalation and I urge all sides to re-establish calm," she said.
UN spokesman Richard Miron called the situation in Gaza "very fragile and unsustainable".
"We deplore the fact that civilians are once again paying the price," he said.