Iran nuclear: Israel's Netanyahu warns on attack timing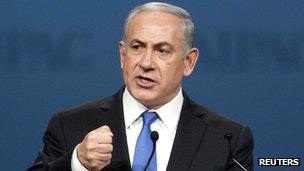 Israel's PM Benjamin Netanyahu has warned he will not countenance a long delay in launching an attack on Iran's nuclear sites.
He told Israel's Channel 2 station he did not have a stopwatch, but added: "This is not a matter of days or weeks. It is also not a matter of years."
He said the threat of Iranian nuclear weapons had to be removed.
Mr Netanyahu has just returned from the US, where President Barack Obama said there was still time for diplomacy.
Iran insists its nuclear programme is for purely peaceful purposes but many Western nations and Israel fear it is making weapons.
Key world powers met this week in Vienna and urged Iran to enter "serious dialogue" on its nuclear programme "without preconditions".
Mr Netanyahu told Channel 2: "I hope that the pressure on Iran will work and we can peacefully convince them to tear down their nuclear programme."
He said he understood Mr Obama's position.
"The US is big and distant, Israel is smaller and closer to Iran, and - of course - we have different capabilities," Mr Netanyahu said.
"So the American clock regarding preventing nuclearisation of Iran is not the Israeli one. The Israeli clock works, obviously, according to a different schedule."
He added: "The result has to be that the threat of a nuclear weapon in Iran's hands is removed.
"It is forbidden to let the Iranians get nuclear arms. And I intend not to allow that to happen."
Mr Netanyahu's ex-security adviser, Uzi Arad, told Israeli Army Radio on Friday the prime minister's words were clear: "What's left? A matter of months.''
However, the former director of the Mossad spy agency, Meir Dagan, was cautious about an attack on Iran.
He told CBS's 60 Minutes programme: "An attack on Iran before you explore all other approaches is not the right way to do it.
"It's our duty to help anyone who likes to present an open opposition against the regime in Iran."
On Thursday, six world powers - the US, UK, France, Germany, Russia and China - said in a statement: "We call on Iran to enter, without pre-conditions, into a sustained process of serious dialogue, which will produce concrete results."
They called on Iran to co-operate fully with UN inspectors and allow them to visit the Parchin military site.
The International Atomic Energy Agency (IAEA) has previously said it suspects the Parchin site may be being used for nuclear weapons-related testing.
Earlier this week, the six powers accepted an Iranian offer to return to talks for the first time in over a year. No date or venue has been set.
On Thursday, Iran's Supreme Leader Ayatollah Ali Khamenei welcomed Mr Obama's attempts to dampen the calls for a strike on Iran, calling them "an exit from illusion".
Related Internet Links
The BBC is not responsible for the content of external sites.