Israel investigates killing of a Palestinian in West Bank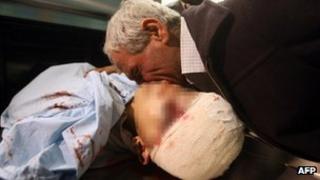 The Israeli army says it is investigating the killing of a Palestinian teenager in the West Bank on Thursday.
Zakariya Abu Eram, who was 17, was shot dead by Israeli soldiers in the Palestinian town of Yatta, south of Hebron.
The Israeli military said he was accompanying a man who stabbed a soldier with a knife.
Local witnesses said he was an onlooker and not involved in the attack.
An 18-year-old Palestinian was also injured.
It is understood that Israeli soldiers were in Yatta to arrest a former prisoner, Khaled Makhamreh.
He was freed as part of Israel's prisoner exchange deal with the Palestinian Islamist group, Hamas, which led to the release of the captured Israeli soldier, Gilad Shalit.
Rising violence
BBC correspondent, Jon Donnison, says that in recent weeks there has been an increase in violence in the West Bank.
Last month, a Palestinian protester was shot and killed during clashes with Israeli soldiers by the Qalandia checkpoint near Ramallah.
On Monday, another Palestinian man was critically injured after doctors said he was hit in the head by an Israeli tear gas canister.
"The past few years have seen relative calm here but some have expressed concern the current total stagnation in Middle East Peace talks could provoke an escalation in violence," our West Bank correspondent says.
On Thursday, tear gas and water cannon were used by Israeli soldiers at Qalandia as several dozen Palestinian women protesters held a rally demanding the release of a hunger-striking detainee, Hana Shalabi.
She was also freed from an Israeli jail as part of the Gilad Shalit deal but has since been detained by Israel. Hana Shalabi who comes from the West Bank, is now on a hunger strike.
The West Bank has been occupied by Israel since 1967.