Iraq town of Tal Afar hit by twin attacks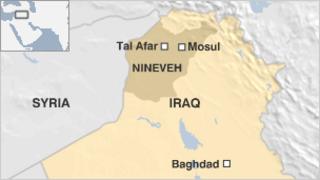 At least 12 people have been killed and 19 wounded in co-ordinated car bomb and suicide attacks in the northern Iraqi town of Tal Afar, officials say.
The car bomb exploded near a popular town centre restaurant. Minutes later, a man wearing an explosive vest blew himself up in a crowd of onlookers.
Tel Afar is a mixed Sunni Arab-Turkomen town not far from the Syrian border.
Earlier, a car bomb reportedly killed two people and wounded seven in a western part of the capital, Baghdad.
There has been a rise in attacks in Iraq since US troops left in December, leaving more than 200 people dead.
The violence has come amid a marked deterioration in Iraq's fragile political process, with the country's most prominent Sunni Arab politician being sought by the authorities on terrorism charges.
'Cowardly'
The mayor of Tal Afar, Abdul Aal Abbas al-Obeidi, said the car bomb was detonated near a crowded restaurant on Wednesday afternoon.
As people rushed to the scene to help, a suicide bomber in the crowd detonated his explosives belt, he told the Associated Press.
"This cowardly terrorist attack only targeted poor civilians," he said. "There were no police or troops in this popular restaurant."
Tal Afar is located about 150km (90 miles) east of the Syrian border and 420km north-west of Baghdad.
It was a major battleground between US forces and Iraqi insurgents in 2005, and has seen infrequent but bloody militant attacks since.
Local politician Qusay Abbas told the AP news agency that Wednesday's violence showed how Tal Afar was still a "hot area".
He said it was an al-Qaeda stronghold and an area used by insurgents crossing the Syrian border in both directions.
No group has yet said it was behind the twin bombings.
The attack in Tal Afar comes two days after gunmen dressed as members of the Iraqi security forces killed at least 25 police in the town of Haditha, in western Iraq.
The gunmen later raised an al-Qaeda flag over a security checkpoint.
Four men were arrested in connection with the attacks on Tuesday. The interior ministry said a fifth man blew himself up when police stormed a hideout in Salahuddin province, north of Baghdad.