Iraq attacks in Haditha 'kill 27 policemen'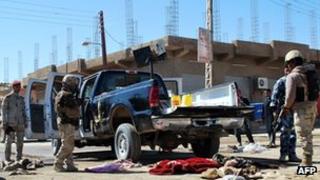 Dozens of gunmen launched a pre-dawn raid on police targets in the western Iraqi city of Haditha, killing at least 27 police officers, police say.
The attacks began at 02:00 (23:00 GMT Sunday) with the kidnapping of two senior officers from their homes. They were later found shot dead.
The gunmen, some wearing military uniforms, then moved through the city, shooting police at checkpoints.
Al-Qaeda has been blamed for the attacks.
According to the Associated Press news agency, an al-Qaeda flag was raised at one of the checkpoints that was hit.
This is the first major incident of violence in Haditha since a suicide bomber targeted a bank in the city in March 2011, killing nine people.
Gunmen's convoy
The gunmen entered the homes of a colonel and a captain in the interior ministry security force, kidnapping them both. The attackers claimed they had warrants for their arrests, Mohammed Fathi, a spokesman for the provincial governor, told AP.
The two commanders were later found shot dead in the street not far from their homes, Haditha police said.
Mr Fathi said the gunmen also used fake arrest warrants at police checkpoints, seizing the mobile phones of the officers on duty before killing them.
The gang, driving interior ministry vehicles and wearing uniforms of the ministry's special forces, then moved through the city in a convoy, which one local lieutenant said was 13 vehicles strong.
Three of the assailants were also killed in the raids, which are said to have lasted half an hour.
"Al-Qaeda is responsible for this," Maj Tareq Sayeh Hardan, a police spokesman in Haditha, said, adding that al-Qaeda literature had been found in one of the attackers' vehicles.
The police quickly imposed a curfew on the city, sealing off the exits, but most of the gang are believed to have escaped into the Jazeera desert area north of Haditha.
Haditha lies in the Sunni Arab Anbar province, which became an al-Qaeda stronghold after the US-led invasion of Iraq in 2003.
Violence in the province dwindled after tribal leaders allied themselves with US forces in 2006.
However, attacks have risen across Iraq since US troops withdrew in December.
Last month, at least 55 people were killed and hundreds injured in a day of violence targeting mainly Shia areas across the country.
The violence in Haditha comes ahead of an Arab League summit, due to be held in Baghdad at the end of March.