Dozens of Yemen troops die in clashes with al-Qaeda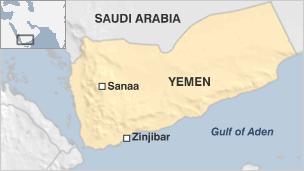 At least 30 soldiers and a number of militants have been killed in fighting in southern Yemen, military officials have said.
The clashes took place in the southern province of Abyan, west of the provincial capital and militant-held town of Zinjibar.
One report said that a total of 14 al-Qaeda militants had been killed.
The fighting flared following twin suicide bombings targeting military posts in Zinjibar earlier on Sunday.
At least six soldiers were killed in the suicide attacks which took place at a western and southern entrance to the city, according to Reuters.
"So far 30 soldiers have been killed and the toll is expected to rise as some bodies have not been transferred to hospital yet," a military official told AFP, speaking of the later clashes.
He said many more soldiers had been wounded in the fighting.
According to one report quoting an army source, the fighters took some of the army's heavy weapons before pulling back to Zinjibar, and were assisted, he alleged, by army leaders who had served under the former president.
Islamists began taking control of parts of the province of Abyan last year and security forces have been battling them since.
There has been a spate of attacks against security forces since President Abdrabuh Mansur Hadi took over from former President Ali Abdullah Saleh and was sworn in in late February.
In a separate attack on Saturday, two suicide bombers drove a car packed with explosives into a Yemeni army base in the southern province of al-Bayda, killing one soldier, Reuters reports.
The defence ministry said al-Qaeda had claimed responsibility for that attack.