Homs siege: Reporter Javier Espinosa's dramatic escape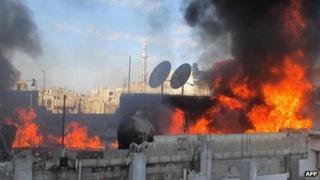 Spanish reporter Javier Espinosa was one of four foreign journalists trapped for days in Homs as Syrian troops tried to dislodge rebel fighters. In a BBC interview, Mr Espinosa, who works for the El Mundo newspaper, described his dramatic escape from the Baba Amr district.
The people of Baba Amr helped us to get out: they organised a convoy of about 50 people. It wasn't only for us [journalists], it was also for the wounded and civilians who wanted to escape.
We had to cross through the army lines - the same way we came in.
The bigger the group, the more risky the operation.
You have to do it at night without any lights, and you have to walk through the army positions. The positions are sometimes only 200m from where you are. If there is any noise, they detect your presence and start shooting.
And that is what happened [to us]. There was a group of kids, who were terrified, saying "Mummy, mummy!" We tried to tell them to keep quiet, but it was too late and soldiers started shooting.
We had to run for our lives and hide. I guess some people died, because there were wounded who could not move very quickly.
We lost contact with them.
We then hid in a forest for an hour and later continued walking until we found a [safe] house.
'Matter of luck'
It was really tough in Baba Amr: 200-300 shells every day in a small enclave. It was very difficult to hide as all the houses were damaged. Our house was also hit many times.
They would start shelling at six o'clock in the morning and finish at six o'clock in the evening.
It was very risky to walk outside during the day. You just had to run and hide when you heard the noise of the incoming shelling.
It was a matter of luck: they were shelling randomly from one corner to another: 10 minutes here, 10 minutes there and then they would go back again.
So, you just wait during the day, and move at night: the only time when you could go outside.
And this is what local residents were doing to try to get some food and supplies for those who were unable to move. There were lots of wounded.
'Like buried alive'
There were about 20,000 people living in Baba Amr and [Free Syrian Army] fighters [could be counted] in the hundreds.
A lot of civilians were old people, children, women.
In one underground restaurant - which they called a bunker - there were about 300 people, mostly women and children. They could not get out because of snipers. So, most of the people stayed inside for 20 days.
There was one guy who said: "I feel like being buried alive."
They were eating only basic rice and drinking tea.
Some residents were saying: "We prefer to stay here and die rather than to live as we did before."
Others were terrified about what could happen to them without the FSA, without journalists.
Now they [the fighters and reporters] are gone, and we don't know what's happening in Baba Amr.