Prosecutors propose new charge for Hariri suspects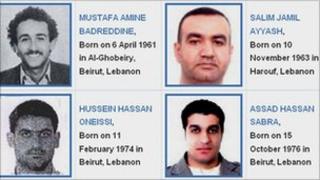 Prosecutors at the UN-backed tribunal investigating the 2005 assassination of former Lebanese PM Rafik Hariri want to expand the charges against the accused.
The Special Tribunal for Lebanon (STL) said adding the count of "criminal association" had been proposed, an offence under the Lebanese penal code.
It was revealed in a request to the appeals chamber seeking clarification.
Arrest warrants have been issued for four members of the Shia Islamist group Hezbollah, but they remain at large.
Mustafa Badreddine, Salim Ayyash, Hussein Oneissi and Assad Sabra were charged in June on nine counts, including the murder of Rafik Hariri and 21 others, who died when a suicide bomber drove a van packed with 2,500kg (5,510lb) of explosives into his convoy in Beirut.
New prosecutor
Last month, the STL's trial chamber said it would try them in absentia after "all reasonable steps" had been taken to arrest them.
Hezbollah leader Hassan Nasrallah has rejected "each and every void accusation" and said no power would be able to arrest the men.
On Friday,a statement published by the STLsaid the prosecution was "seeking to add a new count to the indictment of 'criminal association', which is an offence under the Lebanese penal code (Article 335)".
The proposal was disclosed because the pre-trial judge had asked the tribunal's appeals chamber to define the crime of "criminal association".
Lebanese Prime Minister Najib Mikati said last month that the STL's chief prosecutor Daniel Bellemare would be submitting a revised indictment before he left office at the end of February.
He said Mr Bellemare had told him that the new charges concerned information on car bomb attacks on three other Lebanese politicians - George Hawi, a former leader of the Lebanese Communist Party who was killed in June 2005; and former Defence Minister Michel Murr and former Telecommunications Minister Marwan Hamadeh, who survived bombings in July 2005 and October 2004 respectively.
On Wednesday, UN Secretary General Ban Ki-moon named Norman Farrell, the Canadian deputy prosecutor of the International Criminal Tribunal for the former Yugoslavia (ICTY), as Mr Bellemare's successor.
Last week, Mr Ban extended the STL's mandate for three years and reiterated the UN's commitment to uncover the truth behind Hariri's death.