Syrian referendum in media spotlight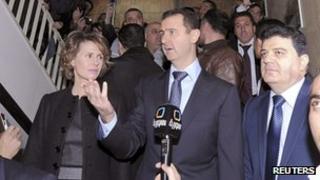 The referendum on a new draft constitution in Syria, and the continuing violence in the Middle Eastern country has split opinion in both regional and global press.
Editorials in Syrian state media were characteristically defiant, whilst comment in support of and against the referendum appeared in Gulf and regional media.
Elsewhere, an article by Russian Prime Minister Vladimir Putin in a Moscow newspaper warned against military intervention in Syria, and was highly critical of US and Western policy in the region.
China's media, angry at US Secretary of State Hillary Clinton's remarks calling China and Russia's veto of a UN resolution on Syria "despicable", weighed in against the US and the West.
Ziyad Ghusn in Syria's government-owned Tishrin
Whatever the outcome of the referendum on the draft constitution, the striking turnout of the Syrian people at polling stations yesterday represents a direct response to the attempts by some Arab and Western regimes to steal the will of the Syrian people and speak on their behalf.
Ali Qasim in Syria's government-owned Al-Thawrah
Syrians have written their message in a manner which reflects their will and this will reflect on their consciousness. The scenes at the ballot boxes are living testimony to their exercising democracy.
Editorial in Saudi Arabia's Al-Watan
The irony is that on the day of voting on the draft new constitution, 31 people were killed. The new constitution is a desperate attempt to calm the situation. However, calm will not be achieved as long as killings and destruction continue, and there will be no way for the revolutionaries, after all the sacrifices, to retreat from their clear objectives.
Editorial in Israel's liberal Ha'aretz
The fact that Israel is not one of the countries condemning the events and demanding Assad's removal is both puzzling and outrageous… The Israeli government represents a public that wants to hear it express a clear moral stance and even a willingness to provide humanitarian aid.
Zuhayr Majid in Oman's Al-Watan
Whether the yes or no is victorious... what is important is that Syria is being renewed, the spirit of freedom is embracing the current game and everything that will happen in the future. Syria will not go backwards but will move forwards into the new world, stable and developed.
Tariq al-Hamid in London-based Al-Sharq al-Awsat
What is happening in Syria is a real revolution that Assad wants to extinguish with fire and weapons. Therefore, there is no other way to deter him other than with weapons. We therefore say: Arm the revolutionaries and do not protract the suffering and humiliation of the Syrian people.
Farmarz Asghari in Iran's conservative Siyasat-e Ruz
This referendum has revealed yet another face of the coalition of Arab and Western countries who claim to support the people of Syria. It has become another global scandal for them in a manner that many people see this referendum as a slap by the Syrian people on the aforementioned coalition
GLOBAL MEDIA
Russian Prime Minister Vladimir Putin in Moskovskiye Novosti
No-one should be allowed to employ the Libyan scenario in Syria. The international community must work to achieve an internal Syrian reconciliation... I would like to warn our Western colleagues against the temptation to resort to this simple, previously used tactic: if the UN Security Council approves a given action, fine; if not, we will establish a coalition of the states concerned and strike anyway.
Viktor Feshchenko in Russian state-owned Rossiyskaya Gazeta
Western countries want to dismiss Assad, but they do not know how to do it. It is clear that although the Syrian economy is suffering and people's life is becoming harder, this will not make the regime capitulate.
Zhong Sheng in China's state-owned People's Daily
Disturbingly, the US, which is intervening fully in Syria's civil strife, has not seriously considered how the Syrian people will end this disaster soon at minimum cost. While flaunting the US diplomatic and moral high ground in the name of "democracy" and "freedom", Washington keeps denigrating Russia and China.
Editorial in China's state-owned Global Times
The West has rejected any reform in Syria and made Bashar's stepping down a prerequisite for ending the crisis in Syria, which is wrong. What the West wants is by no means democracy in Syria, but to topple the Bashar regime in order to clear away Iran's influence on Syria. China should work with Russia to support the Syrian referendum.
BBC Monitoringselects and translates news from radio, television, press, news agencies and the internet from 150 countries in more than 70 languages. It is based in Caversham, UK, and has several bureaux abroad.