Gulf poetry show fights Middle East zeitgeist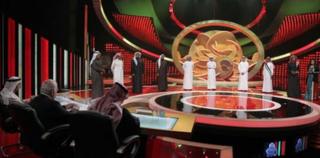 The fifth season of the hit TV show Million's Poet is Abu Dhabi TV's most popular show and a boost for the United Arab Emirates' (UAE) claim to be the regional media hub.
The show is a reality-TV style knock-out in which contestants compete for a first prize of 5 million dirhams, about US $1.3m (£820,000).
Besides the prize money, the winner of the final this April is certain to become an overnight media sensation. The presenters and judges are all already well-known stars in the Arab world.
The contestants compete by reciting Nabati poetry, a traditional type of colloquial Bedouin poetry known for its spontaneity and simplicity.
Since Nabati poetry is not easily comprehensible to Arabs without a tribal background, Million's Poet has never garnered the popularity of more Western-style reality talent shows, like Arab Idol and Star Academy. But it is just as camp and run on very similar lines.
The show is filmed live on Tuesday evenings in the Rafha Beach theatre, a heavily illuminated edifice in the desert on the road to Dubai.
Inside, on the highly polished black stage bathed in gently shifting coloured lights, is what looks like a huge revolving flower with an oversized video screen at its centre.
The auditorium is nearly full with a neatly self-segregated audience of men on one side, wearing traditional white dishdashas, and veiled women on the other in black abayas.
Incense hangs pleasantly in the air, as from my seat behind the gold VIP tables I watch a qahwaji, a traditional coffee maker, serve the three judges Arabian coffee from a large ornamental brass pot.
In praise of...
The contestants come mainly from the Arabian peninsula and preferred poetry topics are love, meditation and, contrary to the zeitgeist, praising the leadership in the region.
After each performance, the judges assess the contestants' technical ability, creativity and ability to recite. Then, at the end of each episode, two contestants are selected for elimination and two more are voted off by viewers' SMS text messages submitted over the following week.
Like other countries in the Gulf, the UAE has so far resisted the pressures of the Arab Spring. But the show has a history of controversy and already it has made headlines this season after poets spoke out in support of the revolutions in Egypt, Libya, Yemen, Tunisia and Syria.
In 2010, a Saudi mother-of-four named Hissa Hilal received death threats for criticising Islamic laws in her poetry.
Tonight, however, every poet expresses views that would be music to the ears of Arab leaders in the region.
Abdullah al-Harbi, from Hejaz in Saudi Arabia, recites a poem in praise of Sheikh Mohammed bin Zayed, Crown Prince of Abu Dhabi, while others praise royal family members in Oman and Saudi Arabia.
A Bahraini contestant emotionally gives thanks to the leaders of the UAE and Saudi Arabia for their help in suppressing the Shia uprising in Bahrain last March.
Ghazi al-Utaibi, a lawyer from Saudi Arabia, speaks about hopes, dreams and the Million's Poet competition, followed by a Kuwaiti who praises the Prophet Muhammad's wife and condemns the Danish cartoons [of Muhammad, which sparked protests around the world].
Pride
Although gushing eulogies about political leaders would sound saccharine and laughable to western ears, there is no tradition of political satire in the Arab world and so the audience generally sits enthralled in rapt silence throughout each performance.
All the poetry is proudly Arab, Islamic and tribal, and none of it expresses the slightest desire for either westernisation or democracy.
Though voting is still a novelty in this part of the world, the audience members I speak with are keenly trying to rally their relatives at home to vote for their favourite contestant.
"I came all the way from Kuwait two days ago so I could be here to support my cousin Majid al-Dahani," said Mohammed, a Kuwaiti. "So far he has done well and God willing he will win. He is a nuclear bomb!"
Although nationalism plays a significant role in the show - the last of four Jordanians on the show proudly wears the Jordanian flag around his body - several audience members tell me they will not be voting along nationalist lines.
Standing ovation
Suddenly the show is interrupted by the arrival of Abu Dhabi's Crown Prince Sheikh Mohammed bin Zayed himself, with a small entourage, prompting everyone in the auditorium immediately to jump to their feet and give a standing ovation.
With a royal wave and a smile, Sheikh Mohammed sits down, providing the next poet with the perfect opportunity to deliver a heartfelt paean to his leadership, drawing another standing ovation.
Sheikh Mohammed is a widely-admired figure in the UAE and also a prolific poet.
His personal website is a leading resource on Nabati poetry and he is credited with coming up with the concept for Million's Poet.
Then something happens which has never happened before in the history of the show.
As an Omani poet tells of his happiness at the resumption of Oman's sisterly relations with the UAE following the fallout over last year's espionage scandal, Sheikh Mohammed suddenly jumps to his feet and begins loudly clapping, prompting everyone else in the auditorium to do likewise, including the three judges.
"I felt I won when Sheikh Mohammed stood up in my poem," the contestant, Faisal al-Farisi, told me later. "I don't need to win if he stands up".
Personality profiles
This season, for the first time on Million's Poet, a psychologist has been introduced to the show, Dr Nadia Bu Hannad, from Dubai.
She is one of only three women on the show, besides a presenter and one out of the remaining 24 contestants.
"It is difficult for Arab women to come on the show because of family and tribal pressures," said Rafed al-Harthi, the show's public relations executive.
Dr Bu Hannad assessed all 48 original contestants at the start of the series via a series of written and oral exams and provides ongoing psychological analysis and "personality profiles" to help viewers decide who to vote off.
"Tonight, his highness Sheikh Mohammed bin Zayed was there which gave them a boost and three of them did marvellously, as if they wanted to say: 'We are going to make you proud of us!' But last week, they were almost dead, with no motivation," Dr Bu Hannad commented.
Hugh Miles is a writer and journalist living in Cairo. His books include Al-Jazeera: How Arab TV News Challenged the World and Playing Cards in Cairo.