Obama hails 'new beginning' for Yemen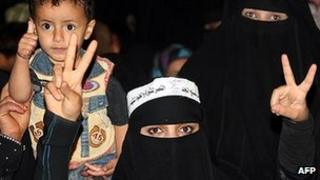 US President Barack Obama has hailed the swearing in of a new president in Yemen as a "new beginning" for the country.
Mr Obama said the US would be "a steadfast partner to Yemen" in its transition to democracy.
He also offered US condolences for the deaths of 26 people in a car bombing in Yemen's southern Hadramawt province.
The attack came hours after Yemen's new President Abdrabbuh Mansour Hadi was sworn in, in the capital Sanaa.
Mr Hadi has replaced Ali Abdullah Saleh, who resigned after months of protest.
"Under President Hadi's leadership, Yemen has the potential to serve as a model for how peaceful transitions can occur when people resist violence and unite under a common cause," Mr Obama said.
"This week, millions of Yemenis voted for a new president and the beginning of a promising new chapter in Yemen's history.
"The Yemeni people have achieved a new beginning for their country, but much work lies ahead."
He added: "I told President Hadi that the United States will stand with the people of Yemen as they continue their efforts to forge a brighter future for their country."
Witnesses in the city of Mukalla said the suicide bomber drove towards a presidential palace and detonated his explosives at the entrance. Most of the dead were members of the elite Republican Guard.
Security officials said the attack bore the hallmarks of al-Qaeda. Correspondents say both al-Qaeda and southern separatists are active in the region.
In his televised speech before parliament, Mr Hadi promised to continue the fight against militants.
He was elected in a single-candidate poll on Tuesday. The election followed a deal brokered by Yemen's neighbours to end months of crisis.
Mr Saleh, who has been in power for 33 years, will formally hand over power in a ceremony on Monday.
Yemen has been plagued by rebellion, with a separatist movement in the south and a Shia insurrection in the far north, as well as the growing influence of al-Qaeda.