Palestinian 'shot dead' in W Bank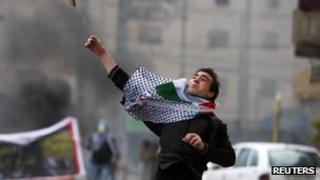 A Palestinian man has died after being injured in clashes with the Israeli army in the West Bank, Palestinian medical sources say.
The man, believed to have been in his 20s, was wounded in violence between Palestinians and Israeli soldiers at an Israeli checkpoint near Ramallah.
Palestinian witnesses say he was shot. The man was taken to hospital but died several hours later.
There were also clashes in Hebron and outside al-Aqsa mosque in Jerusalem.
Hundreds of Palestinians threw rocks after Friday prayers.
Israeli police said they opened fire in the incident near Ramallah after being attacked with rocks, firebombs and fireworks.
The protests came on the anniversary of a massacre at a mosque in Hebron 1994 by the Jewish settler Baruch Goldstein, who killed 29 Palestinians.